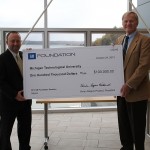 The General Motors Foundation has given Michigan Tech a $100,000 grant through its University Partner Program. The gift will support a variety of student activities, including the Advanced Hybrid Electric Vehicle (HEV) and Advanced Motorsports Enterprises, environmental engineering senior design projects, student groups and diversity programs.
Steve Tomaszewski, GM's global facilities director of operations North America, presented a check to President Glenn Mroz at a ceremony on Oct. 24, at the Great Lakes Research Center.
"The GM Foundation grant presented today is symbolic of our dedication to the next generation of leaders and innovators," said Tomaszewski. "By supporting higher education programs, we're ensuring these students receive the necessary knowledge and skills to compete in a global marketplace."
This year, the GM Foundation will award grants totaling $2.9 million to support leading universities and partnering organizations across the country this year through its University Partner Program. The initiative provides funding to advance secondary education curricula in science, technology, engineering and mathematics, also known as STEM, information technology and other fields important to the automotive industry.
"We appreciate GM's continued support for Michigan Tech's students. The variety of programs the GM Foundation grant supports will gives students the chance to work on developing the technologies that will be important to Michigan's economy far into the future," said Mroz.
"This funding from the GM Foundation comes at the perfect time, as the students are making the final push this academic year to achieve their goal of having a fully-functioning hybrid electric vehicle, showcasing the capabilities of Michigan Tech and the students on the HEV Enterprise," said Bob Page, Michigan Tech laboratory facilities manager/HEV Enterprise advisor.
Michigan Tech and General Motors have had a long-standing partnership dating back to at least 1940. Since that time, General Motors and the GM Foundation have provided more than $12.1 million to support a wide range of activities across campus including scholarships, capital projects, Senior Design and Enterprise programs, student organizations, sponsored research, recruiting support, youth programs, diversity initiatives, and more.
Steve Tomaszewski, GM's director, real estate and facilities operations, presented the check to Michigan Tech President Glenn Mroz.
Among the those attending, HEV Enterprise coordinators, Prof. John T. Lukowski, Associate Professor, Electrical and Computer Engineering and Co-Coordinator, Hybrid Electric Vehicle Enterprise and Robert W. Page, Laboratory Facilities Manager, Mechanical Engineering-Engineering Mechanics and Advisor, Hybrid Electric Vehicle Enterprise with student teams officers, Tyler Sierakowski, Rebecca Farrer, and Michael Carey.