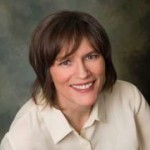 Barbara Oakley, a professor of industrial and systems engineering at Oakland University and author of several books, will be at Michigan Tech Sept. 10-12 as part of the Visiting Women and Minority Lecturer/Scholar Series. She will give a public talk on "Learning How to Learn" at 7 p.m. Thursday, Sept. 11, in Fisher 135. A presentation for the First Year Engineering Classes only will be at the Rozsa Center at 6 p.m. on Wednesday September 10.  
Oakley's latest book is "A Mind for Numbers: How to Excel in Math and Science (Even If You Flunked Algebra)." She will give a presentation on Wednesday for first-year engineering students: "Engineering a Mind for Numbers: How to Start Your Education in a STEM Field."
Thursday morning, Sept. 11, Oakley will present "Learning How to Learn" at Finlandia University. She will have lunch with Michigan Tech's Engineering Fundamentals faculty and host a coffee chat at 3:30 p.m., Thursday in the East Reading Room of the Van Pelt and Opie Library. The coffee chat is sponsored by the William G. Jackson Center for Teaching and Learning.
On Friday morning, Sept.12, Oakley will participate in "Meet the Math Department," organized by Ann Humes, senior lecturer and director of first-year math.
Oakley herself has learned from experience to apply the perspectives of many fields to learning and to life. Originally intending to become a linguist, she earned her bachelor's degree in slavic languages and literature. After working for the Army as a signal officer, she returned to school to study engineering so that she could better understand the communications equipment that the Army used.
She earned a Bachelor of Science in electrical engineering and worked as a translator on Russian trawlers in the Bering Sea. Oakley also spent a season as the radio operator at the South Pole Station in Antarctica, where she met her husband, Philip. They moved to the Detroit area, where she earned a master's degree in electrical and computer engineering and a doctorate in systems engineering. She has been teaching at Oakland University ever since.
The Visiting Women and Minority Lecturer/Scholar series is supported by the President's Office, the College of Engineering, the Dean of Students and a grant to Michigan Tech's Office of Institutional Equity from the state of Michigan's King-Chavez-Parks Initiative.