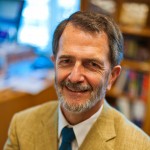 College of Engineering Dean Wayne Pennington joins representatives of more than 120 other engineering schools and colleges at the White House today to celebrate a commitment to educate a new generation of engineers expressly equipped to tackle some of the most pressing issues facing society in the 21st century.
In a letter of commitment presented to President Barack Obama yesterday, 122 US engineering schools pledged to each graduate a minimum of 20 students per year who have been specially prepared to lead the way in solving large-scale societal challenges such as engineering better medicines, making solar energy cost-competitive with coal, securing cyberspace and advancing personalized learning tools to deliver better education to more individuals.
These Grand Challenges were identified through initiatives such as the White House Strategy for American Innovation, the National Academy of Engineering (NAE) Grand Challenges for Engineering and the United Nations Millennium Development Goals. The goal of the 122 signing schools is to train more than 20,000 formally recognized Grand Challenge Engineers over the next decade.
At Michigan Tech, Dean Pennington said, the Scholars and Leaders program within the Pavlis Honors College will work to align with the Grand Challenges program. "We will identify engineers in all of the pathways and assure that through this program they are meeting the exposure requirements in their expertise area," he explained. "We will also work with students in the program to identify their applicable Grand Challenges, leading to a notation within the recognition conferred at graduation indicating this distinction."
The Scholars and Leaders program offers creative and experiential learning within an interdisciplinary framework, providing guidance and a platform for integrative learning.