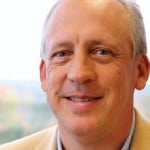 The Chemical Engineering department presented a talk by Dr. James H. Comfort,  General Manager, Cloud Services, IBM Cloud Division. The title was "Crafting a Career in Uncharted Waters: A Journey from Chemical Engineering to Cloud Computing and Back." The presentation was in Fisher 135 at 5:00 p.m. Tuesday March 31st. The university was invited to attend.
Dr. Comfort, a native of St. Paul, Minnesota, received his B.S. in Chemical Engineering from Michigan Tech in 1983 and Ph.D in Chemical Engineering from the Massachusetts Institute of Technology in 1988. His work at M.I.T. was multi-disciplinary in nature across Chemical Engineering, Electrical Engineering and Business Administration, and he was awarded a full Fellowship from the Semiconductor Research Corporation.
Dr. Comfort joined IBM Research in 1988 as a Research Staff Member where he was part of a team pioneering the demonstrations, development, and production of the first commercially viable, fully integrated SiGe semiconductor technologies. He held a series of management and executive roles from 1991 to 2003 encompassing SiGe technology, CMOS technology, three generations (0.22um, 0.20um, 0.18um) of DRAM technologies in a multi-national collaboration between Toshiba, Siemens and IBM, and Wireless ASIC technology development. From 2003-04, he was part of IBM's Corporate Strategy team implementing structured business strategy development programs and from 2004-06 he was Vice President responsible for development and manufacturing of the IBM microprocessors that powered the XBOX 360 game consoles.
In 2008, he was part of the Enterprise Initiatives team that shaped IBM's transformational Cloud Computing strategy, joining IBM's Global Technology Services in 2010 as Vice President to help create IBM's Cloud Services, and was then named General Manager, IBM SmartCloud Platform Development and Delivery in 2013. Over his 25 years at IBM, Dr. Comfort's many roles have always involved collaboration across multiple groups or divisions, and constantly pushing the boundaries of what was believed possible, blending engineering, business and communication to build effective teams; all skills built on a foundation established at Michigan Tech.
PDF Flyer for Dr. James Comfort Talk on Tuesday March 31st
Watch the video on Engineering Michigan Tech Channel on Vimeo Crafting a Career in Uncharted Waters: Dr. James H. Comfort