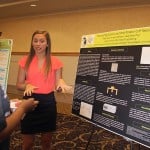 The Center for Diversity and Inclusion sponsored this year's MiCUP/MI-LSAMP Research Gallery Poster Session held on Thursday, June 20, at the Ballroom Michigan Tech Memorial Union.
The event recognizes the research of students participating in the seven-week Michigan College/University Partnership Program (MiCUP) and the Michigan Louis Stokes Alliance for Minority Participation (MI-LSAMP) Program here at Michigan Tech.
Michigan Tech has for many years partnered with MI-LSAMP to continue the shared goal of increasing the number of underrepresented minority and first-generation students in STEM and non-STEM fields. The College of Engineering and Engineering departments participate in the program with several faculty and graduate students, labs and facilities.
A few examples of the research work:
"Patient Specific Computer Fluid Models for the Study of Aneurysms"; Crystal Juarez and Dr. Jingfeng Jiang, Biomedical Engineering;
"Monitoring Suture Load Post Rotator Cuff Repair"; Paige Raad, Andrew DeRouin (graduate student mentor), and Dr. Keat Ghee Ong, Biomedical Engineering;
"Prosthetic Limbs Controlled by Electromyography"; Adam Patrick, Guilherme Ribeiro (graduate student mentor) and Dr. Mo Rastgaar Mechanical Engineering
"Improving Glider for Underwater Problem-solving and Promotion of Interest in Engineering"; Duy Nguyen, Donna Fard (graduate student mentor) and Dr. Nina Mahmoudian, Mechanical Engineering
See several more examples and pictures in the Photo Gallery
See Michigan Tech Expo Channel on YouTube for Videos of 2015 Summer Research Students at Michigan Tech
Photo Gallery in Flickr: 2015 Summer Research Students at Michigan Tech