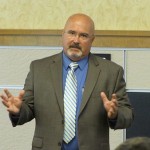 Dr. R. Keith Martin, Senior Science Advisor, Tunnell Government Services visited campus on Thursday, September 10 to discuss research programs and funding opportunities in the life and medical sciences within the Department of Defense.
Dr. Martin presented two sessions: "Understanding Military Medical Research Programs," and "The Medical Technology Enterprise Consortium." Both seminars were in the MUB Ballroom A-1.
Dr. R. Keith Martin has had a successful career as a researcher and senior leader in the area of medical and health science research and development. He has served in many leadership roles within the US Army and Department of Defense including Military Deputy to the Principal Assistant for Research and Technology at the Army's R&D Headquarters, where he exercised executive oversight of the planning, management and execution of >$1.4B of annual R&D funding for medical programs.
Dr. Martin retired from military service as a full Colonel and now works for Tunnell Government Services as a senior science advisor to help connect researchers from academia and industry with the medical research programs supported by the Army and the Department of Defense.
In addition, Dr. Martin engaged in discussions on research programs and opportunities funded by the Department of Defense.