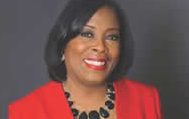 The Center for Diversity and Inclusion has announced the seven speakers for their Social Justice Lecture series.
Among the speakers is the first African-American woman to graduate with a PhD from Michigan Tech's Mechanical Engineering-Engineering Mechanics Department.  She will return to Houghton to lecture at 5:30 p.m. Feb. 14, 2017, in the Memorial Union Alumni Lounge.
Robin Johnson-Cash will speak about her experiences as a minority engineer at the Ford Motor Company. Her appearance at Michigan Tech is part of the University's observance of Black History Month.
All of the events are free and open to the public.  For more information, contact Zack Rubinstein or visit the CDI Facebook Page.
Read more at Tech Today, by the Center for Diversity and Inclusion.