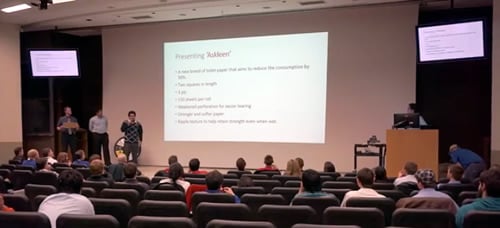 The second annual Consumer Products Day Finals at Michigan Tech were held Saturday. Nineteen teams of Tech students were given 20 hours and a box of materials provided by Kimberly-Clark, Amway, DOW or 3M to create, design and pitch a new consumer product. Two teams representing each company advanced to the finals, resulting in eight final products being pitched to the company reps, judges, technical review panel and audience.
A total of $7,000 was awarded to the top three teams.
1st Place: $3,300. Jade Scientific — Kimberly-Clark
Team Members: Abbey Senczyszyn, Emil Johnson, Sarah Lorenz, Josh Leon, Dominic Oldani
2nd Place: $2,400. Student Athlete Engineers — The DOW Chemical Company
Team Members: Josh Rzeppa, Keith Lemely, Quinn Kaspriak, Corey Zetizus, Sophia Farquhar
3rd Place: $1,300. Engineering World Health — 3M
Team Members: Paul Shelcusky, Anna Isaacson, Michael Gazdecki, Brett Opel
The Crowd Pleaser Award — Amway
Team Members: Nick Minarich, Ayla Vaughn, Vincent Padget
Company reps included Tech Alumni Aaron Schroeder '12, Katie Rohlfs '16 and Joe Gallo '12 from The DOW Chemical Company; Kevin Madson and Ryan McInnis '15 from 3M; Chris Heiting '14 and Nicole Barna '09 from Kimberly-Clark; and Sam Soyka '12 and Andy Davies '03 from Amway. Tony Rogers, Glen Archer, Joe Thompson, David Shonnard and Tim Eisele made up the technical review panel with Mike Morley, Brian Lagalo and Komar Kawatra serving as judges.
The event was hosted by Career Services. Student teams received additional support from the Consumer Products Manufacturing Enterprise, Makerspace, Brad Turner, Magann Dykema, Mary Raber, Ethan Beavers and Michael Norman.
By Career Services.