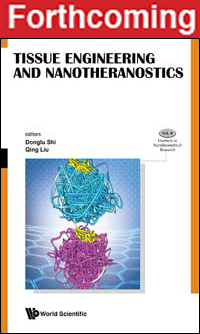 Caleb Vogt, Mitchell Tahtinen, and Feng Zhao have provided the first chapter to a book entitled "Tissue Engineering and Nano Theranostics" (ISBN: 978-981-3149-18-2). World Scientific Publisher. 2017. The book provides a comprehensive overview of current achievements in biomedical applications of nanotechnology, including stem cell based regenerative medicine, medical imaging, cell targeting, drug delivery, and photothermal/photodynamic cancer therapy.
The chapter is "Engineering Approaches for Creating Skeletal Muscle," and it highlights the significant impact of stem cells in skeletal muscle engineering and regeneration.
About the authors:
Feng Zhao is an Associate Professor in the Department of Biomedical Engineering.
Caleb Vogt and Mitchell Tahtinen were undergraduate researchers in the Zhao lab.
Caleb is currently in the graduate program of the University of Minnesota.
Mitchell is currently a master's student in the Department of Mathematical Sciences at Michigan Tech. He still conducts research in the Zhao lab.