HELP US CELEBRATE EWEEK 2017! 
     National Engineers Week celebrates the positive contributions engineers make to society and is a catalyst for outreach across the country to kids and adults alike. For the past 60 years, National Engineers Week has been celebrated each February around the time of George Washington's birthday, February 22, because Washington is considered by many to be the first US engineer.
     Tech's events during Engineers Week, (Feb. 18-25), are again sponsored by Tau Beta Pi, the local chapter of the Engineering Honor Society.
     National Engineers Week, also known as Eweek, begins on a sweet note at Michigan Tech with an ice cream social from 5 to 6 p.m. Saturday (Feb. 18) in the Wadsworth Dining Hall.
     Things get rolling at noon Monday, (Feb. 20) with the pep band in front of the Husky statue. The iconic statue will be dressed in a lab coat and bow tie all week. The Green Campus Enterprise will have a rocket stove demo from 12:45 to 3 p.m. outside of Fisher Hall. The Mind Trekkers will be in the Dow Atrium from 1 to 3 p.m. with hands-on demonstrations. From 6 to 7 p.m. the Blue Marble Security enterprise will present a heart rate circuit board.
     Questions? Contact Morgan Herzog, Tau Beta Pi public relations officer, and/or Julia Zayan, president.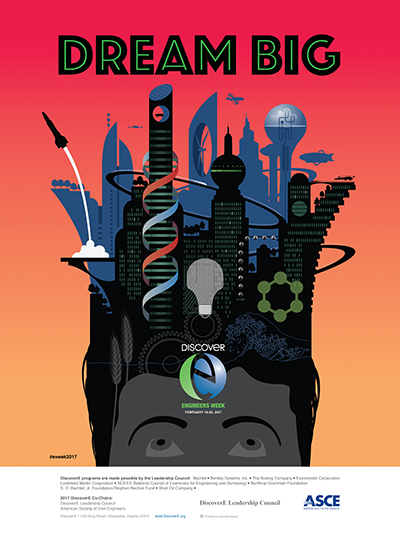 Upcoming E-week events at Michigan Tech:
SATURDAY, FEBRUARY 18
5:00 PM – 6:00 PM
Tau Beta Pi
Ice cream social
Wadsworth Dining Hall
MONDAY, FEBRUARY 20
12:00 PM – 12:15 PM
Pep Band
Husky Statue
12:45 PM – 3:00 PM
Green Campus Enterprise
Rocket stove demo
outside Fisher Hall
1:00 PM – 3:00 PM
Mind Trekkers
Dow Atrium
6:00 PM – 7:00 PM
Blue Marble Security
Heart rate circuit board
EERC 722
TUESDAY, FEBRUARY 21
11:00 AM – 1:00 PM
Railroad Engineering & Activities Club
Fisher Lobby
1:00 PM – 3:00 PM
Advanced Metalworks Enterprise
Foundry demo
Husky Statue
THURSDAY, FEBRUARY 23
12:00 PM – 3:00 PM
AIChE, Chem E Car stop reaction demo
Fisher Lobby
5:00 PM – 6:00 PM
American Society of Engineering Management
Company panel
Chem Sci 101
7:00 PM – 8:00 PM
Engineers Without Borders
Presentation & meeting
Fisher 328
FRIDAY, FEBRUARY 24
11:00 AM – 1:00 PM
Formula SAE
Chassis demo
MEEM Lobby
11:00 AM – 3:00 PM
Engineering Fundamentals,
E-week cake, stop by for a piece!
Dillman 112
12:45 PM – 3:00 PM
Green Campus Enterprise,
Winterization demo
Dow A
trium
8:30 PM – 11:00 PM
Film Board, Apollo 13
Fisher 135