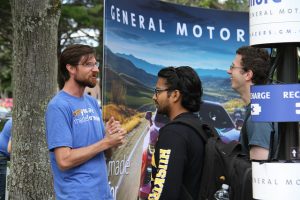 General Motors, a long-time supporter of Michigan Tech, will present the University with a $110,000 grant on Thursday, March 2, 2017.
The campus community is invited to the check presentation at 10 a.m. in Memorial Union Ballroom A.
Steven Tomaszewski, GM's global facilities director of operations North America and a member of Michigan Tech's Board of Trustees, will present the check to President Glenn Mroz.
The grant will fund a variety of student activities. Among them are the Advanced Hybrid Electric Vehicle and Advanced Motorsports Enterprises, Manufacturing Engineering Initiative, pre-college STEM outreach programs and diversity programs.
Original story by Industry Relations.
Michigan Tech Receives $110,000 Grant from GM
Michigan Tech and General Motors share a long-standing partnership dating back to at least 1940.
Through the University/Organization Partner Program, GM annually grants $3 million to support leading universities and partnering organizations across the country. The program aims to strengthen higher education curricula in STEM and other fields important to the automotive industry, with a goal of preparing more students to graduate with related organizations, and career development resources.