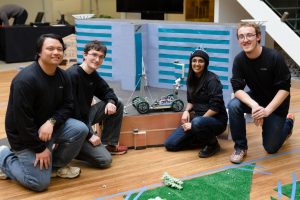 A team of biomedical engineering undergraduates from Michigan Technological University earned 2nd place at the 7th Annual Stryker Engineering Challenge competition in Kalamazoo, Michigan on March 30th and 31st.
Each year Stryker invites engineering student teams to its global headquarters to show off their engineering prowess while competing against 6 rival schools. During an overnight competition, they spent 14 hours planning, designing, prototyping and testing to prepare for a challenge created by Stryker engineers. This year's challenge consisted of a superhero theme where each team had to design and construct a "semi-autonomous super-vehicle" using a robotics kit and other miscellaneous components.
Ana-Lisia Powdhar, Zachary Vanderstelt, Peter Beach, and Sterling Korstadt made up the Michigan Tech team. Associate Professor Keat Ghee Ong traveled with them and served as mentor. They competed against teams of mechanical and electrical engineering students from Purdue University, Notre Dame, University of Michigan, Michigan State University, Western Michigan University, and the Michigan Engineering Alliance (a combined team from Andrews University and Hope College). The team from Purdue took first place.
"It was the first time that biomedical engineering students from Michigan Tech have competed in the Stryker challenge," says BME department chair, Sean Kirkpatrick. "Students have competed in the past, but this is the first time a Michigan Tech team has earned 2nd place. It demonstrates the way we approach biomedical engineering education at Michigan Tech—we focus first and foremost on rigorous engineering skills."
The competition was comprised of three parts: Tech Challenges, a series of rapid-fire Jeopardy-style questions, with points going to the fastest correct answer among the teams. Then came "homework" given to the teams to do on their own time—various word problems pertaining to engineering, computer science, and design team dynamics. And finally, the main challenge: to design, build and test a robot able to complete a variety of specific tasks on Stryker's challenge course. These tasks— all aimed towards collecting LEGO action figures to earn points in the competition—ranged from activating a magnetic sensor at a specific frequency to completing a circuit using components on the robot.
The teams were given 12 hours to construct their robots. "We worked hard from 8 pm to 2 am, and again the next day from 6 am to noon," says BME student Peter Beach.
"We had a list of tasks that needed to be accomplished and no base to start from," adds Ana-Lisia Powdhar. "Everything was built from scratch. Due to time constraints, we built our thoughts instead of writing it out first. The Stryker engineers helped us find flaws and we kept improving what we were doing.
"Sterling was constantly messing with the drive train design. Zac seemed to be downloading a new code every 10 minutes. And Peter and I never stopped working on the robot arm. Even after the challenge, we were all talking about what we would have done differently if we'd had the time."
"The best part was having a functioning robot at the end of two stressful days," adds Zac Vanderstelt. "We managed not only to effectively compete, but to also place second ahead of all of the Universities I grew up hearing about like Western Michigan, U of M, Michigan State, Notre Dame, and Michigan College Alliances."
Simplicity was the key to their success. "We learned it was better to think of a viable solution and go for it instead of debating every step of the way," says Vandersteldt.
Sterling Korstadt agrees. "The most challenging part of the experience was trying to make sure to keep the design simple and not overthink the situation."
Korstadt says he would consider Stryker as a possible career choice. "They are on the cutting edge of medical device development, and truly care about helping other people. Stryker also emphasizes team work and collaboration, something I believe is essential to developing a successful product."
Powdhar's take away from the experience: "I learned to just try it. If it fails, figure out why, fix it or try something else. Ask ALL the questions no matter how dumb they sound. And don't give up, as cliche as that sounds. We were vigilant and determined," she says.
"And I'd like to add that Dr. Ong was great. We were very happy that he was with us and we would do it again with him if we could."
Stryker Corporation, active in over 100 countries, is one of the world's leading medical technology companies, offering products and services to help improve patient and hospital outcomes.