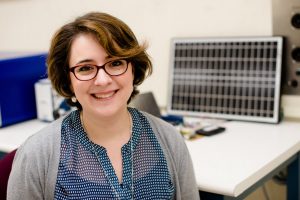 Assistant Professor Lucia Gauchia attended the first symposium for a new national program, LATTICE, or Launching Academics on the Tenure-Track: An Intentional Community in Engineering. The four-day symposium, which took place May 18-21, 2017, on Bainbridge Island, WA, focused on career skills, self-reflection, and conversations about identity and the academy. The symposium featured:
a cohort of early-career engineers,
mentorship and networking with senior panelists,
and professional development workshop sessions.
LATTICE is funded by the National Science Foundation and sponsored by the University of Washington, North Carolina State University and California Polytechnic State University.
Gauchia has joint appointments with the Departments of Electrical and Computer Engineering and Mechanical Engineering-Engineering Mechanics. She holds an endowed position as a Richard and Elizabeth Henes Assistant Professor for Energy Storage Systems. Having held a faculty position for four years now, she recommends pursuing mentorship opportunities earlier. Nevertheless, the experience was a good one. She was able to join a community and share stories with women in electrical and computer engineering.
I especially enjoyed being able to engage and interact at a fuller level, with no burden of having to dissociate emotion from professionalism, work and research interest and career from personal life.Lucia Gauchia