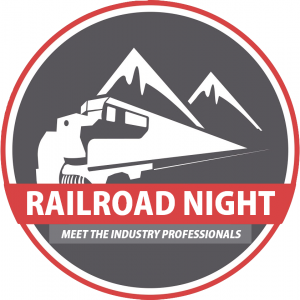 Registration is now open for Railroad Night XIII. This year's Railroad Night will take place from 5 to 8:30 p.m. Oct. 3, 2017, in the Memorial Union Ballroom. Students may meet industry professionals from 5 to 6 p.m. and participate in a social hour from 6 to 7 p.m. Dinner will begin at 7 p.m. Kevin Riddett, president and CEO of RailWorks, will provide the keynote address this year.
RailWorks is a leading rail industry company, offering infrastructure design and construction services, as well as signals and communication services, for both the freight and transit rail markets. Railroad Night provides a relaxed, dine-with-industry atmosphere, designed to encourage discussion of rail industry opportunities for students interested in the industry. Students, faculty, staff and interested community members are invited to attend. Registration for the event is open online.
We are charging a $5 fee to all participants, which will be used to fund door prizes for student participants. Students should use the Student Registration option, and faculty, staff and community members should use the Guest option. Contact David Nelson, or 7-1734 if you have questions.
By David Nelson.
Michigan Tech Rail Day and Student Expo
The Michigan Tech Rail Transportation Program (RTP) and Railroad Engineering and Activities Club (REAC) will host a two-day event series for rail industry guests, community members, Michigan Tech students, faculty and staff. Everyone is welcome.
Railroad Night XIII runs from 5 to 8:30 p.m. today in the MUB Ballroom. The evening starts with an industry panel from 5 to 6 p.m. that is free and open to any and all students. From 6 to 8:30 p.m. is the ticketed Railroad Night, including a social hour, raffle prizes, dinner and keynote speaker Kevin Riddett, president and CEO of RailWorks Corporation. Dinner begins at 7:00 p.m. The event is sponsored by Herzog Railroad Services Inc. and RailWorks. There is a $5 registration fee for the Railroad Night event. Register here.
Rail industry representatives will participate in Rail Day Expo from 11 a.m. to 4 p.m. tomorrow (Oct. 4) on the campus mall. The campus community is invited to see the latest technologies in the rail industry. Students from all disciplines across campus can learn about jobs in rail communications, power systems, computers, construction, operations and more, as well as internships and co-op opportunities.
Companies attending include: Bergman Associates, BNSF Railroad, CN Railroad, Herzog Railroad Services, Kiewitt/Mass Electric Construction Company, Lake Superior and Ispheming Railroad, Quandel Consultants, Pettibone, Railworks, Remprex LLC, Schneider Logistics, Surveying Solutions, ViaRail Engineering and WSP.
"We've got a great line-up of rail industry representatives ready to demonstrate all that the industry has to offer in careers and internships. Come on out and see us!" says David Nelson, of the event organization team.
Learn more about the event here. Contact Nelson by email or call 7-1734 with any questions.
By Career Services.
Rail pros offer students inside career advice
HOUGHTON — Michigan Technological University students thinking about pursuing a career in the rail industry got to hear about it from industry insiders Tuesday night.
A panel of 10 railroad representatives, including some Tech alums, answered moderator and student questions Tuesday.
Some questions delved into what jobs were open in the rail industry for specific majors. Others were more general, such as one about what the panelists would have liked to do in college that would have helped their career.
Read more at the Mining Gazette, by Garrett Neese.
Railroad Night XIII and Expo 2017 in Review
The Rail Transportation Program (RTP), in conjunction with the Railroad Engineering and Activities Club (REAC) and with support from the RTP Program Partner, CN Railway, were proud to host Michigan Tech's 4th Annual Rail Expo and 13th Annual Rail Night on Oct. 3 and 4.
Dual showcase events, Railroad Night and Expo, bring together industry professionals and students interested in the industry. The unique blend of panel discussion, social hours, dinner, keynote and displays on the campus mall catalyzed relationships between the students of Michigan Tech and the Railroad Industry. These marquee events are a cornerstone of our mission to develop leaders and technology for the 21st century in railroad transportation.
Railroad Night XIII was held on the evening of Oct. 3, kicking off our showcase events where railroad industry professionals and Michigan Tech students mingled and discovered the possibilities of a career in the railroad industry. Starting out with a "Meet the Industry" panel of 10 industry professionals, a battery of questions from both the moderator and audience allowed students to discover the railroad industry, take advice and hear some interesting stories out of the industry.
Afterwards, students and professionals mingled for the social hour, which was a great opportunity for students and the industry to get to know each other further, with discussions about internships, full-time positions or points about the industry in general. This more relaxed atmosphere is always conducive to productive discussions in an industry-focused environment, a perennial favorite of Michigan Tech Students. Following the social hour was dinner and the keynote address by Kevin Riddett, the CEO of Railworks. Speaking of his career and experiences in multiple roles throughout various industries, Riddett imparted sage advice and plenty of stories to the audience over a dinner filled with more interaction between the industry and Michigan Tech students interested in a career in rail.
Special thanks to Railworks and Herzog Railroad Services, for sponsoring the Railroad Night XIII 4th Annual Rail Expo on Oct. 4. The fourth Annual Rail Expo was held on the Campus Mall, allowing the industry to demonstrate their companies and technologies, and to recruit Michigan Tech students.
For students, the event offered a great chance to discuss opportunities in the industry with representatives and recruiters, with more than a dozen companies on display and twice as many industry professionals ready to discuss who they are and what they do. While many Michigan Tech students are already interested in a career in rail, the Expo provides a catalyst for new students to get interested and involved within one of the nation's most diverse and thriving transportation industries.
Exhibitors and sponsors included Canadian National Railway-RTP Program Partner, Herzog Railroad Services Inc, WSP, Quandel Consultants, Schneider, Railworks, Surveying Solutions Inc, Remprex Engineering Services, Bergman Associates, Via Rail Engineering, BNSF Railway, Kiewit & Mass. Electric Construction Company, Pettibone Traverse Lift, and Lake Superior & Ishpeming Railroad.
Every year, Michigan Tech's Rail Night and Expo events culminate in a number of internships and full-time careers. With nearly 200 students passing through the Expo or attending Railroad Night, this year's events continued the success initiated almost a decade ago.
We look forward to next year and continuing our mission to grow and develop students for careers in the railroad industry. We would also like to thank our sponsors and industry supporters for their generous contributions.
By Pasi Lautala.