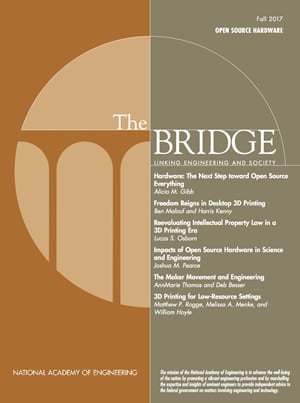 Joshua Pearce (MSE/ECE) was the guest editor for the National Academy of Engineers' Fall Issue of The Bridge on Open Source Hardware.
The complete issue and all individual articles can be downloaded here.
Joshua Pearce (MSE/ECE) and ECE graduate students Prannay Malu and Utkarsh Sharma co-authored the paper, Agrivoltaic potential on grape farms in India, in Sustainable Energy Technologies and Assessments.
Pearce co-authored a paper Micro-Raman Scattering of Nanoscale Silicon in Amorphous and Porous Silicon in Zeitschrift für Physikalische Chemie.
Pearce and Michigan Tech alumnus Jephias Gwamuri  coauthored, "Open source 3D printers: an appropriate technology for building low cost optics labs for the developing communities", published in Proc. SPIE 10452, 14th Conference on Education and Training in Optics and Photonics: ETOP 2017.
Pearce and biomedical engineering student Ross Michaels published a short note: 3-D printing open-source click-MUAC bands for identification of malnutrition in Public Health Nutrition.
In the News
Alumna Dhwani Trivedi (ECE) and Joshua Pearce (MSE/ECE) published Open Source 3-D Printed Nutating Mixer in Applied Sciences. Their work was covered by 3Ders in Michigan engineers design open source 3D printed rotating lab mixer and in GongKong, which is the China Industrial Network.
Pearce's summary "How solar power can protect the U.S. military from threats to the electric grid" on collaboration with PhD Student Emily Prehoda (SS) and Chelsea Schelly (SS) was picked up by the Associated Press and covered widely, including: LA Times, GovTech, Chicago Tribune, San Francisco Chronicle, Raw Story, ECS and Real Clear Defense, among others.
Their work was later covered by the investment news in Motley Fool, Business Insider and Green Biz, and internationally in Sputnik News.
In Print
MSE alumna Amber Haselhuhn coauthored a paper with Paul Sanders (MSE) and Joshua Pearce (MSE/ECE) Hypoeutectic Aluminum–Silicon Alloy Development for GMAW-Based 3-D Printing Using Wedge Castings published in the International Journal of Metalcasting.
Alumnus Chenlong Zhang coauthored a paper with Sandra Cvetanovic (ECE, undergraduate) and Pearce (MSE/ECE), Fabricating Ordered 2-D Nano-Structured Arrays Using Nanosphere Lithography. The paper appeared in MethodsX.
ECE alumna Siranee Nuchitprasitchai co-authored a paper with Mike Roggemann (ECE) and Pearce (MSE/ECE), Factors effecting real-time optical monitoring of fused filament 3D printing. It was published in Progress in Additive Manufacturing.