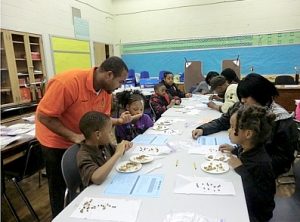 Nine members of the National Society of Black Engineers Pre-College Initiative (NSBE-PCI) chapter at Michigan Tech are spending spring break in Detroit, participating in the annual Alternative Spring Break. They will visit six middle and high schools to encourage students to consider college and a STEM (science, technology, engineering, math) career.
During the day, the Tech students will make classroom presentations to middle and high school students encouraging them to continue their education after high school, consider going to college or community college and choose a STEM career path. The NSBE students will also conduct Family Engineering events at three K-8 schools for students and their families.
High school students will have the opportunity to apply to participate in a six-day Engineering and Environmental Science Exploration at Michigan Tech from July 21-28 with a $600 scholarship, or apply for a five-day summer STEM internship at Michigan Tech in July. Application information is available through school principals or here.
The goal of the NSBE classroom presentations and Family Engineering events are to engage, inspire and encourage students to learn about and consider careers in engineering and science through hands-on activities.
This outreach effort is funded by the John Deere Foundation and the Michigan Tech Office of Admissions and the College of Engineering, in partnership with Detroit Public Schools Community District, and coordinated by the Michigan Tech Center for Science and Environmental Outreach.
By Joan Chadde.