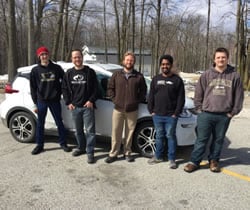 ELKHART LAKE, Wis. (WLUK) — Students at Michigan Technological University took to the grounds of Road America near Elkhart Lake Thursday to put the finishing touches on a car that literally drives itself.
The autonomous vehicle is part of a contest designed to move the technology forward.
"Well, I'm not driving. It's an interesting feeling. I've been driving for 15 years. Now I get behind the wheel, and the wheel turns, and pedals move, and I don't have to do anything," said Spike, a graduate student at Michigan Tech.
Read more at FOX 11 News, by Eric Peterson
Related: