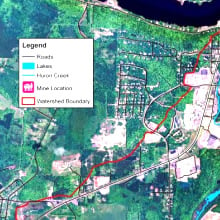 The Summer Undergraduate Research Fellowship (SURF) program will fund 25 students from across the University with funds from the office of the Pavlis Honors College and the Vice President for Research.
Previous SURF award recipients have included Goldwater Scholarship and NSF Graduate Research Fellowship recipients. Since 2002, SURF students have co-authored 78 peer reviewed publications.
This year's recipients, project titles, and advisors are listed online.
Honorable Mention went to Kiaya Caspers, Travis Durgan, Elisha Earley and Ashley Lingle.
By Will Cantrell.
Stephanie Jewell
Biomedical Engineering / Mechanical
William Cook / KIP
Controlled Breathing and Automatic Cardiovascular Control
Kaylee Meyers
Rupak Rajachar / Biomedical Engineering
Evaluating the Influence of Matrix Stiffness on the Activation of MMPs in Tendinopathy
Alexander Oliver
Jeremy Goldman / Biomedical Engineering
Characterizing the Inflammatory Response to Zinc Stent Materials
Brennan Vogl
Smitha Rao / Biomedical Engineering
Monitoring migration of cancer cells using a microfluidic device
Satyen Dhamankar
Chemical Engineering / Mathematics
Benjamin Ong / Mathematical Sciences
Accelerated Boundary Integral Methods
Timothy Stone
Don Lafreniere / Social Sciences
Exploring the Social Determinants of health and Disease Outbreak Patterns in Children in Early Twentieth Century Calumet
Katelyn Kring
Snehamoy Chatterjee / GMES
Spatial Interpolation of Rock Quality Designation to Design Underground Support System for Eagle Mine
Dennis J Byard
Joshua Pearce / Materials Science
Increasing Maker Manufacturing through 3D Printing with Reclaimed Plastic & Direct Drive Pellet Extrusion
Aaron Dean
Pasi Lautala / Civil and Environmental Engineering
Using Naturalistic Driving Data and Machine Learning to Predict Accident Risk at Highway-Rail Grade Crossings
Eric Houck
Mo Rastgaar / Mechanical Engineering
Magneto-Rheological Fluids Create a Natural Walking Gait in Ankle-Foot Prostheses