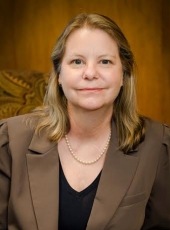 Provost and Vice President for Academic Affairs Jackie Huntoon has been selected to serve on the Council on Academic Affairs (CAA) executive committee for the Association of Public and Land-Grant Universities (APLU).
Huntoon will be a member of the executive committee's five-person class of 2021. APLU is a research, policy and advocacy organization dedicated to strengthening and advancing the work of public universities in the United States, Canada and Mexico. APLU serves 237 public research universities, land-grant institutions, state university systems and affiliated organizations.
APLU's agenda is built on three pillars: increasing degree completion and academic success, advancing scientific research and expanding engagement. The association's advocacy arm works with Congress, the presidential administration and the media to advance policies that strengthen public universities and their students.
The CAA is composed of chief academic officers, typically provosts or senior vice presidents for academic affairs where they are a campus's second-ranking officer.
The CAA provides a forum for discussing trends in higher education and the public mission; funding patterns and budget strategies; teaching and learning innovations; faculty roles and rewards; academic programs, planning and advising; research and publication; and service and engagement with other sectors. The CAA advises the Council of Presidents and the APLU Board of Directors regarding association priorities and agendas in these areas.