The American Society of Civil Engineers (ASCE) Earth and Space 2018 conference was held in Cleveland, Ohio, on April 9-12. Michigan Tech was well represented by several talks. Paul van Susante (MEEM) is the current chair of ASCE's Aerospace Division that organized the conference and he gave two talks: "Minerals from Space: Terrestrial and Extra-terrestrial Perspectives" and "Robotic Mars and Lunar Landing Pad Construction Using In-Situ Rocks." He also chaired two sessions, served as a student paper judge and handed out division awards as well as the Columbia medal to Paul Wooster from SpaceX on behalf of Elon Musk.
In addition, Gregory Odegard (MEEM) presented at the pre-conference shortcourse: "Design and Analysis of Composite Materials for Aerospace Structures." Two of his students, Hashim Al Mahmud and Will Pisani, attended the shortcourse and each presented a paper. The papers titles were: "Multiscale Modeling of PEEK Using Reactive Molecular Dynamics Modeling and Micromechanics" and "Predicting the Effective Mechanical Properties of Graphene Nanoplatelet-Carbon Fiber-Epoxy Hybrid Composites Using ReaxFF: A Multiscale Modeling Approach".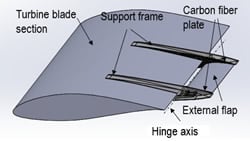 The 2017 best paper award for the Journal of Aerospace Engineering (published by ASCE by the Aerospace Division) was awarded to "Design and Simulation of Active External Trailing-Edge Flaps for Wind Turbine Blades on Load Reduction" by Xiao Sun, Qingli Dai, Muraleekrishnan Menon and Fernando Ponta in the September 2017 issue.
https://doi.org/10.1061/(ASCE)AS.1943-5525.0000771
Kristina Swallow, ASCE President, attended the entire conference which concluded with a tour of NASA Glenn Research Center. For more information, visit the ASCE Earth and Space website.