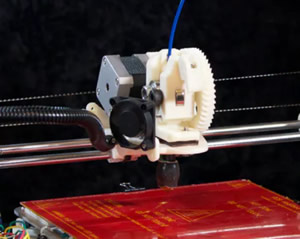 An article written by Joshua Pearce (MSE/ECE) for The Conversation, Trade wars will boost digital manufacturing – at consumers' own homes with personal 3D printers, was picked up by the Associated Press and published widely in several newspapers, including the San Francisco Chronicle, Chicago Tribune, San Antonio Express, Times Union in New York and others. The story was covered on WTOP radio in Washington, D.C. and on TEGNA Broadcast Media (46 television stations covering 50 million people).
Pearce is quoted in an article regarding the Michigan Tech student developed recycling system: Equipment spotlight: Boost for at-home filament extrusion, in Plastics Recycling Update.
In the News
An article written by Joshua Pearce (MSE/ECE) was reprinted by khou.com, the Times Union, Financial Sense, World News and several other media outlets.
Joshua Pearce (MSE/ECE) was quoted in the article "3D printing news Sliced Siemens, ExOne, Stratasys, Massivit, CELLINK, Formlabs, Star Rapid," 3dprintingindustry.com.
Pearce was interviewed on National Public Radio (NPR) for "3D Printing is Turning the Economics of Scale on its Head." You can listen to the interview here.
Pearce writing on the trade wars and 3D printing was covered by Salon.