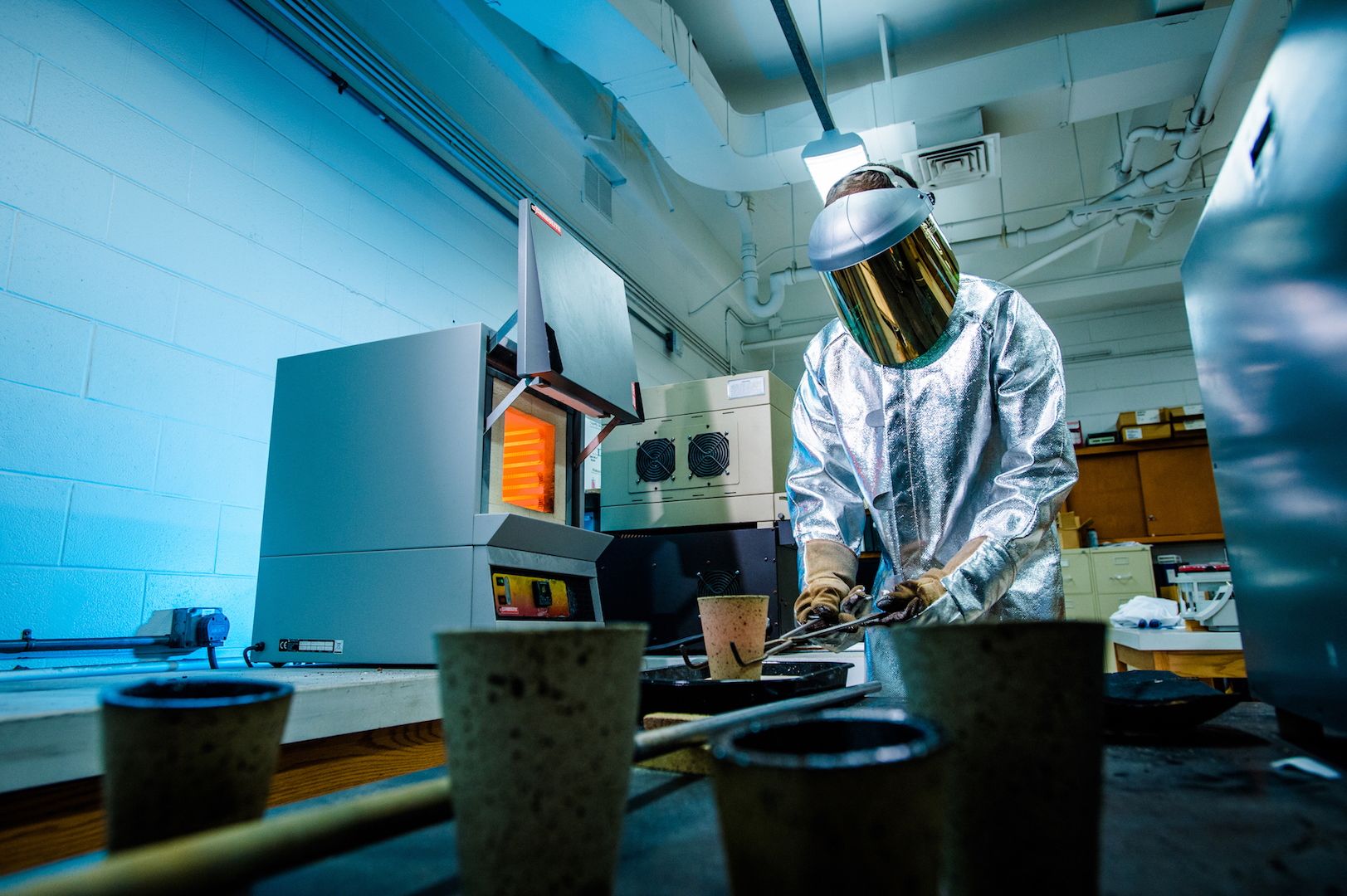 International industry leaders and research engineers from mining and mineral processing are on the Michigan Tech campus Thursday and Friday for the 7th annual meeting of the Advanced Sustainable Iron and Steelmaking Center (ASISC). The meeting features speakers from India, China, Chile, Brazil, United Kingdom, Sweden, South Africa, Columbia and the U.S., as well as Michigan Tech faculty and students.
A total of 25, 30-minute presentations will take place during the meeting. This year's theme: "New Paradigms in Mineral Processing."
ASISC members pool resources to address a diverse spectrum of interdisciplinary research questions. During the annual meeting, they share their work and experiences to further the development of a new generation of sustainable, economical mineral processing technologies.
The meeting kicked off with Komar Kawatra, professor of chemical engineering at Michigan Tech and founder and director of ASISC, welcoming participants. Todd Davis, area manager of Tilden Mine Plant Operations for Cleveland-Cliffs, delivered the first presentation. Following Davis, Anna Edigar, also of Cleveland Cliffs spoke about the role of government relations in the iron ore industry. She also shared an update on the Cliff iron ore operation.
Janet Callahan, dean of the College of Engineering at Michigan Tech, welcomed attendees at today's lunch at 1 p.m.
Callahan holds a PhD in materials science, an MS in metallurgy, and a BS in chemical engineering, all from the University of Connecticut at Storrs, where she is a member of the Academy of Distinguished Engineers. "Bringing together world experts to focus on sustainable ways to process iron and steel is important," she remarked. "Each gain we make has a multiplying effect across the world."
A Pilot Scale Carbon Dioxide Scrubber for the Michigan Tech Steam Plant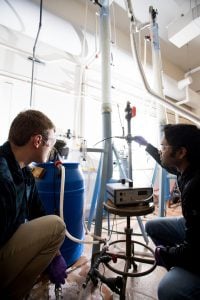 Meanwhile at Michigan Tech, chemical engineering undergraduate Sam Root, along with Kawatra and chemical engineering PhD student Sriram Valluri are making plans to install a pilot scale carbon dioxide scrubbing column in the Michigan Tech steam plant.
"The new equipment will scrub carbon dioxide from a sample stream of less than one percent of the main exhaust from the steam plant," Root explains. "This will allow us to study the effects of real flue gas on carbon dioxide capture. The findings of this research will be applied in the future when designing a full-scale scrubbing operation."
"The Michigan Tech steam plant currently produces a flue gas that is 10 percent carbon dioxide by volume," says Kawatra. "Our goal is to use the scrubber to reduce those emissions to zero."
The steel industry currently produces a flue gas that is 16 percent carbon dioxide by volume, adds Kawatra. Carbon dioxide scrubbers are not yet widely used in the steel industry, at least not yet.
"Making our scrubber compatible with real flue gas is the biggest challenge we've faced on this project. Flue gas is released from the boiler at high temperatures. It contains particulates that may be harmful to the packing inside the column. The equipment used to filter and cool the flue gas must be carefully selected to ensure that all materials are chemically compatible with the flue gas," Root explains.
"Carbon dioxide levels are increasing, and this contributes to climate change. Capturing carbon dioxide on a large scale would be a huge step forward in mitigating anthropogenic climate effect. I am excited to work on such an important project as a young engineering student." – Sam Root,  chemical engineering senior at Michigan Tech
Master Machinist Jerry Norkol and Research Associate Stefan Wisniewski, both staff in the Department of Chemical Engineering, worked with the students to design the new scrubbing column, and also built the experimental setup. Larry Hermanson, director of energy management for Michigan Tech Facilities, is also involved in project planning and installation. In just a few months, once the test pilot scrubber is installed on the steam plant, the team will begin to examine how impurities in flue gas, such as sulfur dioxide and nitrogen oxide, as well as depleted oxygen levels, affect its ability to absorb carbon dioxide.
A Long Time In the Making
Kawatra and his graduate students have spent the past 15-plus years developing the scrubbing column technology at Michigan Tech with support from Carbontec Energy Systems in Bismarck, North Dakota. Carbontec is a developer of technologies for the energy, oil and gas and iron and steel industries. John Simmons, chairman of Carbontec, earned a BS in metallurgical engineering at Michigan Tech in 1953. He is a member of the Chemical Engineering Academy at Michigan Tech, a native of Ironwood, Michigan, and a strong supporter of Michigan Tech.
Root and Valluri will present a poster on the pilot carbon dioxide scrubber project at the ASISC annual meeting poster session.
Speakers at the ASISC Annual Meeting
THURSDAY, AUGUST 9
Dr. Komar Kawatra, Michigan Tech
Todd Davis, Tilden Mine, Cleveland Cliffs
Anna Ediger, Cleveland Cliffs
Dr. Sandra De Moraes, IPT, Brazil
Dr. Natasia Naude, University of Pretoria, South Africa
Samira Rashid, Thyssenkrupp Industrial Solutions
William Irani, Gaustec Magnetic Technology
Esau Arinwae, Solvay
Professor Yuexin Han, Northeastern University, Shenyang, P. R. China
Dr. Janet Callahan, Dean of Engineering, Michigan Tech
Professor Shaoxian Song, Wuhan University of Technology
Maria Bjorkvall, LKAB
Dean Connor, Metso Minerals Industries
John Simmons, Carbontec Energy
FRIDAY, AUGUST 10
Dr. Luis Cisternas Universidad de Antofagasta, Chile
Michael Archambo, Michigan Tech
Victor Claremboux, Michigan Tech
Sriram Valluri, Michigan Tech
Dr. Rajiv Ganguli, University of Alaska Fairbanks
John Carr, Solvay
Dr. Tathagata Ghosh, University of Alaska Fairbanks
Dr. Latika Gupta, Michigan Tech
Scott Moffat, Solvay