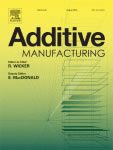 Joshua Pearce (MSE/ECE) co-authored the study, "Chemical Compatibility of Fused Filament Fabrication-based 3-D Printed Components with Solutions Commonly Used in Semiconductor Wet Processing," which was published in Additive Manufacturing.
https://doi.org/10.1016/j.addma.2018.07.015
Extract
3-D printing shows great potential in laboratories for making customized labware and reaction vessels. In addition, affordable fused filament fabrication (FFF)-based 3-D printing has successfully produced high-quality and affordable scientific equipment, focusing on tools without strict chemical compatibility limitations.
The results show that 3-D printed plastics are potential materials for bespoke chemically resistant labware at less than 10% of the cost of such purchased tools.
In Print
ME students Aubrey Woern and DJ Byard coauthored a paper with Joshua Pearce (MSE/ECE) on Fused Particle Fabrication 3-D Printing: Recycled Materials' Optimization and Mechanical Properties, which was published in Materials.
https://doi.org/10.3390/ma11081413