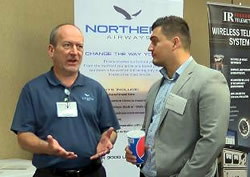 The Aerospace Industry Association of Michigan (AIAM), in partnership with Pure Michigan Business Connect (PMBC), hosted an aerospace expo on the Michigan Tech campus October 15-16, 2018.
"Michigan has continuously been ranked as a top-10 state in aerospace manufacturing attractiveness and the Upper Peninsula is a critical part of our success in this industry," says Tony Vernaci, president and founder of AIAM. "We are excited about this event and the opportunity it brings to form connections between potential customers, talent and suppliers."
The expo kicked off with a networking event and reception Monday, then moved into exhibits Tuesday. Some of the on-site buyers included GE Aviation, Parker Aerospace, RCO Aerospace, Woodward, Bell Helicopter, Cessna Aircraft and Liebherr.
"GS Engineering is a proud member of AIAM and we are excited to welcome this expo to the Upper Peninsula. The UP has a growing reputation in aerospace and a cluster of aerospace suppliers including advanced manufacturers, engineering and research companies," says Rob Cooke, from GS Engineering.
By Career Services.
UP Aerospace Expo held at Michigan Tech
HOUGHTON, Mich. (WLUC) – Aerospace Industry Association of Michigan hosts the Upper Peninsula Aerospace Expo this week.
"It is a matter of if you want to be a leader in the industry or you want to follow the industry. We see the U.P. and the companies here as being leaders for the industry," said AIAM president and founder Tony Vernaci.
There are 600 aerospace industry companies in Michigan. Only 23 of those are located in the U.P.