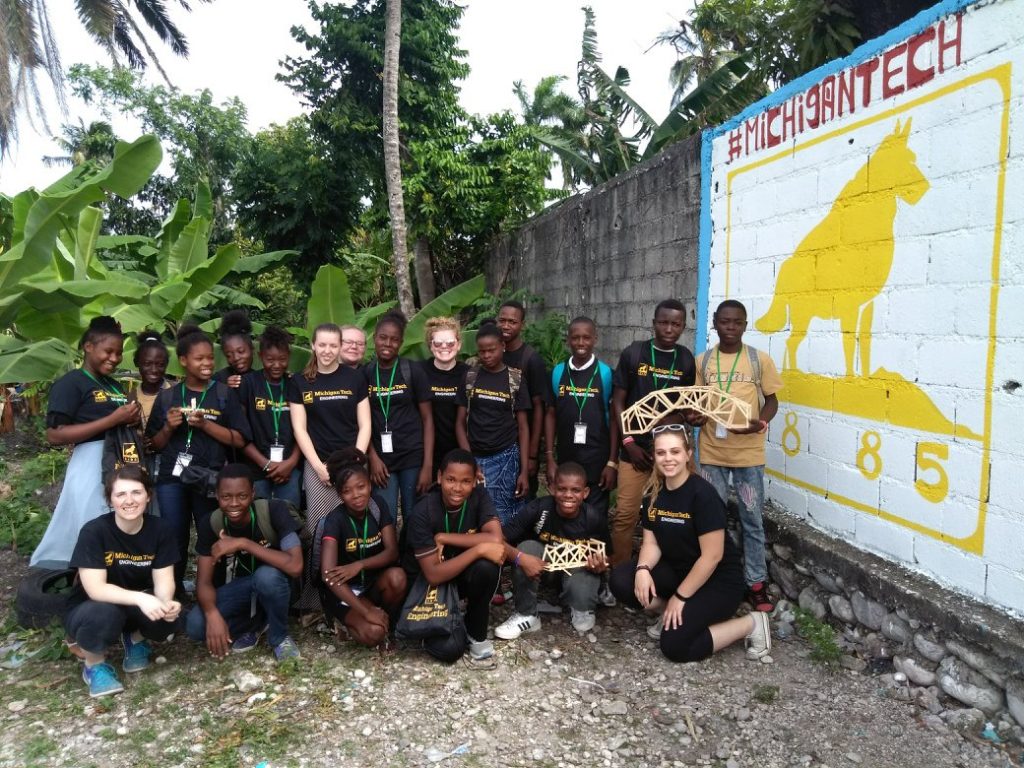 Early last summer, five undergraduate engineering students from the Michigan Tech chapter of Engineering World Health took a trip to Les Cayes, Haiti. They were led by Megan Byrne, an electrical engineering undergraduate who organized the trip. They describe the experience as nothing short of life-changing.  
Engineering World Health inspires, educates and empowers young engineers, scientists and medical professionals to use their engineering skills to improve global health in the developing world.  The Michigan Tech chapter of EWH is now in its second year.
Along with Byrne on the trip were biomedical engineering students Gina Anderla and Kiaya Caspers, mechanical engineering students Lidia Johnson and Brooke Breen, and materials science and engineering student Anna Isaacson. To get to Haiti, the Michigan Tech engineering students bagged groceries, plus each spent $1,500 of their own to cover travel costs. A non-profit organization operating in Haiti, HUT Outreach, provided lodging for the Michigan Tech team during their stay, and invited them to help teach STEM subjects to a class of 7th graders in the new HUT Outreach secondary school.
Students in Haiti often drop out of school in the sixth grade, with a diminishing retention rate thereafter. HUT Outreach is trying to break that statistic. During their visit to Les Cayes, the Michigan Tech team tried to change how the high school students viewed education and experienced learning.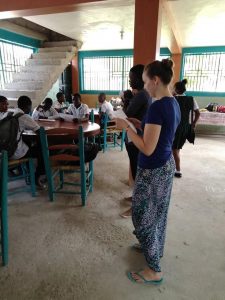 "Project-based learning is a concept where students learn some theory, but also how to apply it outside the classroom, in the real world," says Breen. "Our three day curriculum was focused around allowing Haitian students to think outside the box, being really inquisitive with hands-on learning projects. Our purpose was not only to expose them to a new way of thinking, but also to help HUT Outreach reform a new generation of Haitians who will be catalysts in creating a new way of approaching education in their country. Michigan Tech also gives us these tools and abilities—to be able to really hone in our leadership skills, and innovate ways to help create a better community around us, on a local-to-global spectrum."
"Our EWH team wanted the students to learn the theory of series and parallel circuits, forces to build bridges, first aid, and how to build water filters," says Byrne. "This was a challenge, because the students had not been exposed to any of these topics or hands-on learning, and they also spoke a different language." Byrne is a peer mentor in the Learning with Academic Partners (LEAP) program for first-year engineering students in the Department of Engineering Fundamentals at Michigan Tech, which also provided support for the Haiti trip. Byrne was able put her LEAP experience to good use in Haiti.
"Thanks to our Haitian translator, Wesley, I was able to use a creative twist to help the students gain understanding of the difficult lessons in a way that would be impactful for them," she says. "As a matter of fact, the lessons we taught in Haiti were very similar to LEAP sessions I have facilitated for first year engineering students at Michigan Tech."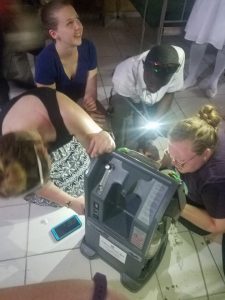 The Michigan Tech team also visited a local hospital, where they fixed a broken oxygen concentrator, one of only two in the hospital pediatric ward. They also discovered a potential fire hazard at the hospital—auto headlight bulbs used as replacement bulbs on medical lamps. And they noticed a lack of surge protectors to protect medical equipment during power outages.
The EWH team wants to return to Haiti this year to continue to help prepare the next generation of Haitian students, and provide support to the small community where we served. They also want to provide the woman's center in Les Cayes with its first portable ultrasound machine.
"We really bonded with the community in Les Cayes," says  Isaacson. "We want to help in any way possible to make their lives better. I think we can all agree that all the people of Haiti became our second family the minute we stepped into the country."