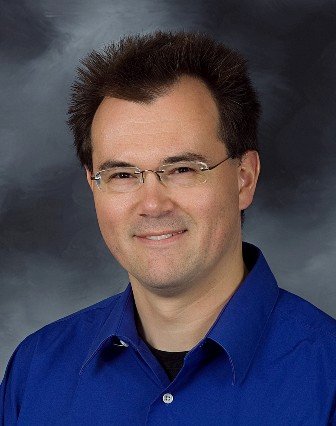 Each spring semester the William G. Jackson Center for Teaching and Learning works to recognize and reward contributions to teaching that may not be noticed or appreciated by students through the Deans' Teaching Showcase.
Each Friday, the six academic Deans; Janet Callahan (CoE), Adrienne Minerick (SoT), David Hemmer (CSA), Dean Johnson (SBE), Lorelle Meadows (Pavlis Honors College) and Andrew Storer (SFRES) will take turns recognizing a total of 13 Michigan Tech instructors who have revised curriculum, created new courses and programs, assessed student work, helped meet accreditation requirements or provided exceptional instruction that's innovative or foundational.
College of Engineering Dean Janet Callahan provides our first Deans' Teaching Showcase member for spring 2019: Paul VanSusante, senior lecturer in the Mechanical Engineering – Engineering Mechanics (ME-EM) Department. She chose VanSusante, simply because he has "worked hard to develop and use active learning strategies in his classes, and his students have benefited greatly. His dedication to his student's learning is an inspiration to us all."
Callahan's choice to recognize VanSusante spans several criteria; he has contributed significantly to curriculum development, but also provides innovative teaching in a foundational context. According to Bill Predebon, ME-EM chair, VanSusante has been "instrumental in the development and coordination of Mechanical Engineering Practice 1 (MEP 1) in our newly revised ME curriculum. In MEP 1 Paul included reverse engineering, in which they take apart a consumer product or toy, go to the internet for buyers' comments, take it apart, redesign it based on comments with the manufacturing process in mind."
But as Callahan noted, VanSusante's exceptional contributions don't stop at curriculum development. Predebon continues: "Paul is also an innovative teacher. He really cares about student learning. His teaching style uses active learning and includes practical insight from his experience and research. He pushes his students to go beyond what is the topic of the day. He has them work in teams whenever possible, so that they can learn from each other. Everyone's input is important and valued, no matter what their background."
As part of the nomination, Associate Dean of Engineering Leonard Bohmann also highlighted VanSusante's innovative teaching in his extensive involvement with MINE (the Mining Innovation Enterprise). According to Bohmann, VanSusante's work there includes an "out of this world" NASA project that involves the extraction of water from gypsum on Mars.
VanSusante will be recognized at an end-of-term luncheon with other showcase members and is now a candidate for the CTL Instructional Award Presentation Series (to be determined this summer) which further recognizes introductory or large class teaching, innovative or outside the classroom teaching methods and work in curriculum and assessment.