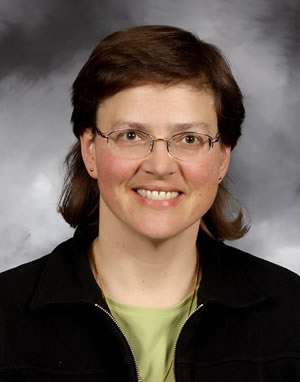 This week, the Deans' Teaching Showcase returns to the College of Engineering where Dean Janet Callahan has selected Faith Morrison, professor of chemical engineering and associate dean.
Callahan chose Morrison not only for her excellent and innovative teaching, but also for extensive historical involvement in academic advising and planning for assessment, especially for Accreditation Board for Engineering and Technology, Inc. (ABET).
Callahan's words, "Professor Morrison has been focused on improving the Chemical Engineering undergraduate program throughout her career. She has been heavily involved in academic advising, assessment activities, and implementing new pedagogy to enrich her students' learning experience. Dr. Morrison's continuous drive to improve student learning is an inspiration to us all."
In his nominating letter, Chemical Engineering Chair Pradeep Agrawal focused mostly on Morrison's unique and deeply-considered teaching philosophy. He especially emphasized her willingness to continually be "flexible in developing her teaching approach to match the learning style of a younger generation."
One such contribution that has clearly been well received is a series of YouTube videos published by Morrison on rheology and momentum transport, several of which have more than 100,000 views.
Morrison believes her fundamental purpose is to teach students how to learn, and that keeping them active in the classroom is important to this end. In her words, she gives students a chance to "attempt solutions and see how their ideas work—I allow them to lead the problem‐solving, since I believe they benefit from following where their ideas lead."
This does not mean she allows them complete freedom. Morrison carefully chooses activities and scaffolds discussions, taking "great care to identify and organize classroom topics and to keep the conversation going."
Agrawal also emphasized this active and carefully customized approach, which Morrison applies even in larger classes. "Faith finds ways to engage students regardless of the class size. Her approach encourages all students to achieve a minimum level of proficiency in order to pass her course, but she also provides "stretch" assignments to students aspiring to earn top grades. These "stretch" assignments are harder problems, designed to challenge the top performing students. Her unorthodox approach allows the students to work at a level commensurate with their aspirations, but also ensures a minimum level of preparedness of the subject matter. "
Finally, Morrison was selected because, according to Agrawal, she "earns the respect of her students, in spite of maintaining a rigorous work load and standards." Faith carefully balances the ability to "meet students where they are" and setting a high—but still appropriate—level of challenge. In her words, she has "found that when I set expectations where I need them to be, the students are able to rise to the occasion."
Morrison will be recognized at an end-of-term luncheon with other showcase members, and is now eligible for one of three new teaching awards to be given by the William G. Jackson Center for Teaching and Learning this summer recognizing introductory or large class teaching, innovative or outside the classroom teaching methods, or work in curriculum and assessment.
By Michael R. Meyer, Director William G. Jackson Center for Teaching and Learning.