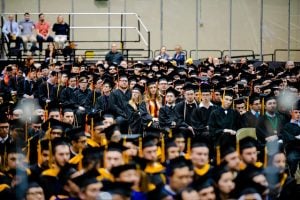 One of more than 1,000 students who walked across the stage during Saturday's ceremony was student commencement speaker Monica Brechting of Grand Rapids, who is the 12th member of her family to attend Tech.
The mechanical engineering major was active on campus, being part of St. Albert the Great University Parish, playing piccolo in the Huskies Pep Band, was team lead of Robotics System Enterprise and president of Tech's chapter of Silver Swings, a national community service organization.
Brechting's speech, "What Makes a Husky?" took fellow graduates through a host of common experiences.
Rebecca Spencer, a mechanical engineering major, got her first exposure to Tech through the Detroit Area Pre-College Engineering Program (DAPCEP), which brought students up for the Summer Youth Program.
Read more at the Mining Gazette, by Garrett Neese.