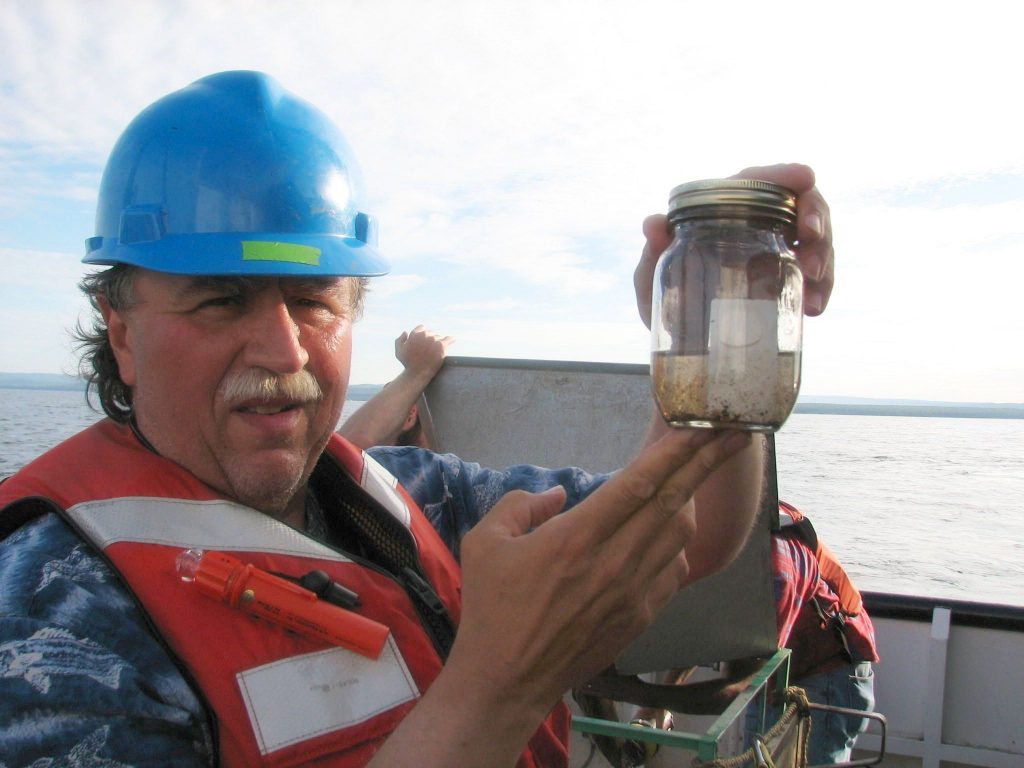 BROCKPORT, NY — The International Association for Great Lakes Research has honored Civil and Environmental Engineering Professor Emeritus Martin (Marty) Auer with its 2019 Lifetime Achievement Award. Presented at IAGLR's 62nd Annual Conference on Great Lakes Research, the award recognizes important and continued contributions to the field of Great Lakes research over a period of 20 years or more.
"Someone lights a fire in your belly," Auer says, when asked to reflect on his career. "You study hard. You demand the best of yourself. You make some friends. You learn some things. One day, the phone rings and a voice says, 'Watson, come quickly, the game is afoot.' The lakes are calling. You go. It's a grand life."
Auer takes a unique approach to his research, blending field and laboratory work with mathematical modeling. He has made significant contributions to a range of topics, with his research almost always addressing high-priority management concerns. He is best known for his groundbreaking work on Cladophora, a green alga occurring naturally along most Great Lakes shorelines, where it grows submerged in long strands. It becomes a nuisance when it breaks free, clogging water intake pipes and fouling beaches with its decay.
"Marty and his colleagues conducted a beautiful series of experiments and field studies in the early 1980s that led to the development of the Great Lakes Cladophora model," says Harvey Bootsma, an associate professor at the University of Wisconsin-Milwaukee.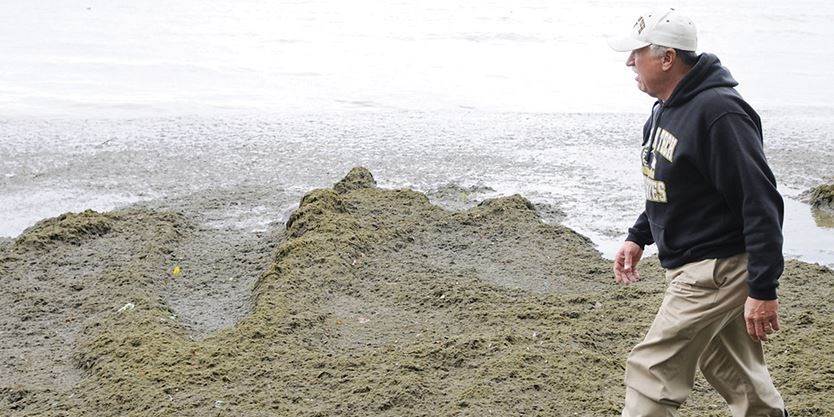 This model has informed our understanding of the connection between phosphorus entering the lakes and the growth of Cladophora, as well as how invasive mussel infestation triggers the alga's growth. Updated over time, the model continues to guide management decisions about phosphorus in many regions around the Great Lakes.
This ability to bridge the gap between research and the real world is driven by a rare sense of responsibility, according to Val Klump, dean of the School of Freshwater Sciences at the University of Wisconsin-Milwaukee. In recalling Auer's participation in an early debate on removing phosphorus from the lakes, Klump says, "Here was a guy willing to apply what he knew and understood in the real world in a heart-felt effort to make the lakes better. That takes guts and a sign of duty."
Auer takes a broad-scale view, making him one of the "best minds in the Great Lakes community," Klump notes. "This is not a guy who claims to have all the answers, but who will pose some very insightful questions; and it is those questions which have driven much of our science forward."
Perhaps this bigger-picture view explains why Auer has invested so much effort in supporting young scientists. "I am not sure I know of an environmental engineering professor who works more closely at training and mentoring his students, many of whom have remained in the Great Lakes Basin to continue their work," notes Joseph DePinto, retired scientist and long-time colleague.
Junior colleagues at Michigan Tech echo this sentiment, citing Auer as a mentor and friend. "He has always tried his best to foster effective research skills…and the development of a productive balance between research, teaching, and service," notes Pengfei Xue, assistant professor at Michigan Tech.
The depth of Auer's commitment to the next generation runs even deeper, according to Guy Meadows, director of Michigan Tech's Great Lakes Research Center. "Through Marty's never narrowing view of broader impacts, he has remained a tireless champion of K-12 education and outreach." Through his many outreach activities, which have earned him several awards, Auer has been instrumental in educating thousands of K-12 students about the importance of Great Lake stewardship."
"I heard Marty talk about the importance of our legacy as individuals who inhabit this patch of our planet for a few short decades and our responsibility to those who follow us," Klump recalls. "Not what I expected, but it has stuck with me, and inspired me still. I am very grateful for a guy like Marty. We need more like him."
Article excerpted from the International Association for Great Lakes Research (IAGLR). Read more here.