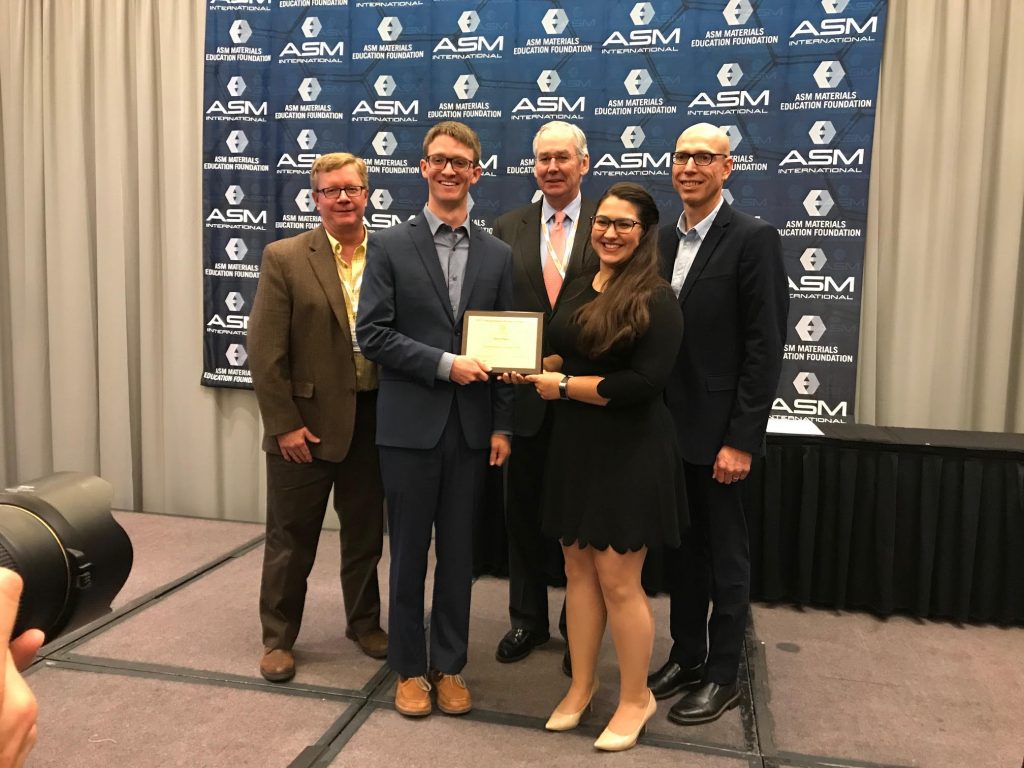 A team of Michigan Technological University students won first place in ASM International's 2019 Undergraduate Design Competition. Their capstone senior design project, "Cobalt reduction in Tribaloy T-400," was sponsored by Winsert, Inc. of Marinette, Wisconsin.
Team members Lucas Itchue, Kyle Hrubecky, Jacob Thompson, and Erin VanDusen—all MSE majors at Michigan Tech—were recognized at a student awards banquet on Monday, September 30 during the Materials Science and Technology (MS&T) Conference in Portland, Oregon.
Winsert currently uses an alloy similar to Tribaloy T-400, a cobalt based alloy, in the production of internal combustion engine valve seats. Cobalt is an expensive element with a rapidly fluctuating price, due to political instability in the primary supplier country, the Democratic Republic of the Congo. Tribaloy T-400 contains approximately 60 wt. percent cobalt, contributing significantly to its price. The student team investigated the replacement of cobalt with other transition elements such as iron, nickel, and aluminum using thermodynamic modeling.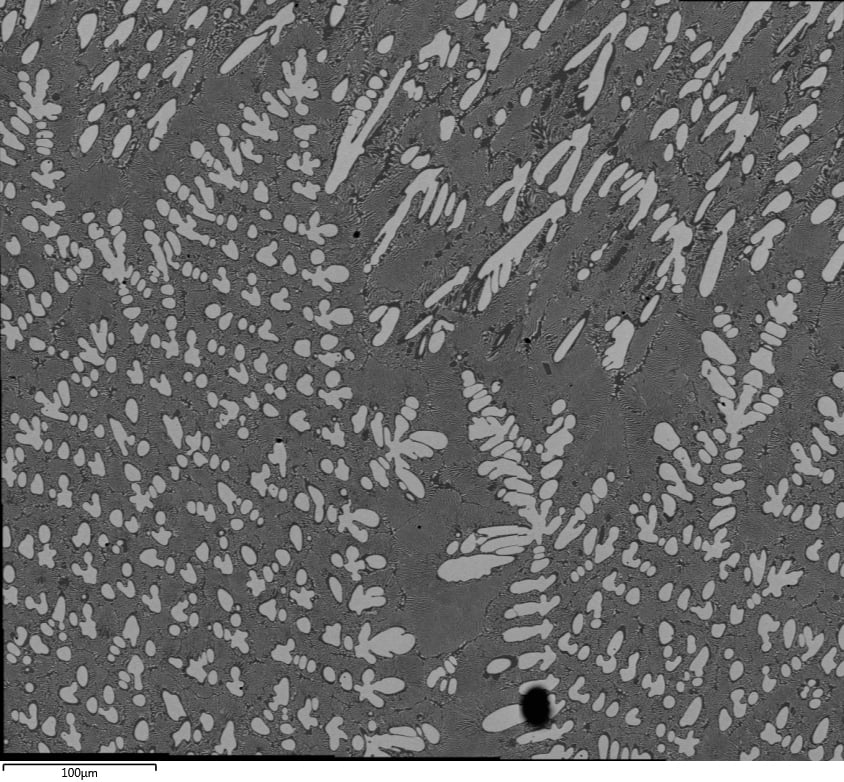 "Michigan Tech was allowed one entry in the competition," says Michigan Tech MSE Department Chair Stephen Kampe. "The 'LoCo' team project was selected by MSE's External Advisory Board following final student presentations last April. All of our senior design projects use advanced simulation and modeling tools, experimental calibration, and statistical-based analyses of the results," he explains. "This project utilized CALPHAD (Pandat) with machine learning (Bayesian Optimization) to identify new and promising alloy substitutions. These are very advanced techniques that are rarely introduced at the undergraduate level in most other MSE programs."
MSE Professor Walt Milligan, Interim Chair of the Department of Manufacturing and Mechanical Engineering Technology, and Paul Sanders, Patrick Horvath Endowed Professor of Materials Science and Engineering, served as team co-advisors.
This isn't the first time, we've won!
According to Kampe, an MSE student team from Michigan Tech team won first place in the ASM International Undergraduate Design Competition last year, too, for their aluminum brake rotor project. Phil Staublin, Josh Dorn, Mark Ilenich, and Aaron Cook developed a new, castable, lightweight high temperature aluminum alloy for project sponsor Ford. "Developmental aluminum rotors have passed every test at Ford Motor Company—all except the extreme 'Auto Motor and Sport' test, which subjects the rotors to temperatures above 500 degrees Celsius," said advisor Paul Sanders. "The team introduced thermally-stable intermetallic phases with high volume fractions that enabled the alloy to provide modest strength for short times at extreme temperatures." Dr. Tom Wood, Michigan Tech MSE research engineer, also advised the team.
"Michigan Tech's entry has placed in the top three all but once over the past 8 years at the ASM International Undergraduate Design Competition," adds Kampe.
"We're very proud of the world-class senior design projects our students experience,"said Janet Callahan, Dean of the College of Engineering at Michigan Tech. "Where else do teams win first place two years in a row, for alloy design, in an era where it isn't about randomly mixing elements, but rather, about predictive modeling based on known materials parameters? These projects⁠—they're centered on fundamentally interesting questions, coupled with faculty and industry expertise. No wonder we're still the go-to place for materials engineers!"