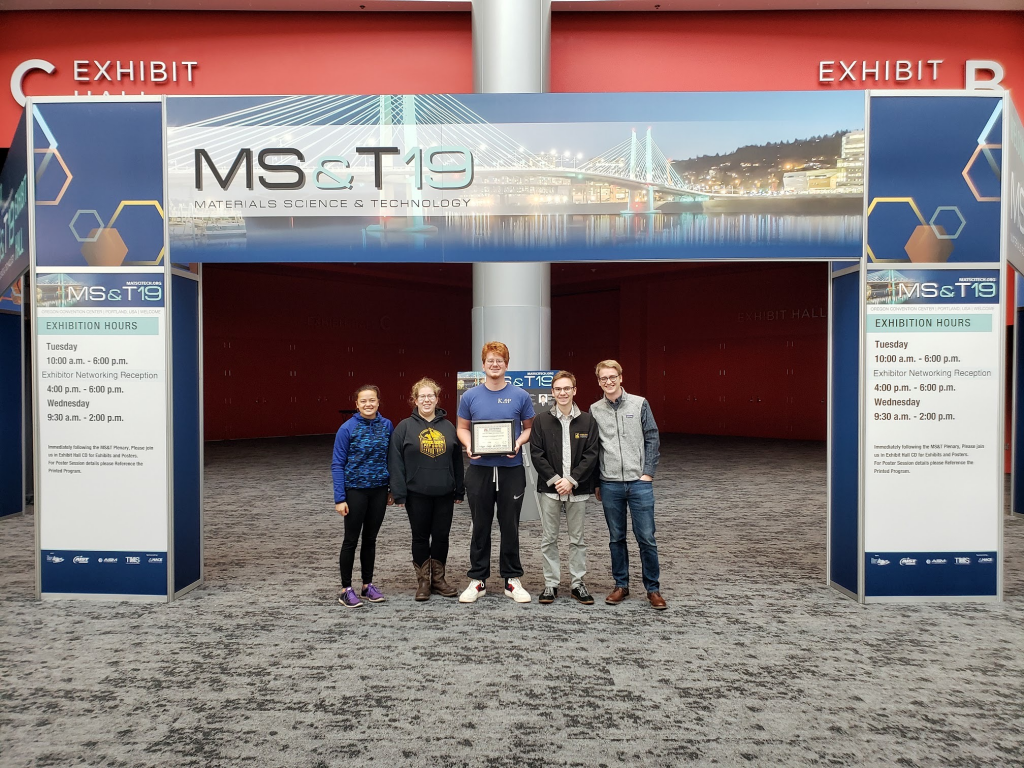 Michigan Tech students received a Material Advantage Chapter of Excellence Award at the recent Materials Science & Technology (MS&T) 2019 conference in Portland, Oregon. The award recognized the accomplishments of the Materials United (MU), Michigan Tech's joint chapter of the American Foundry Society and Materials Advantage.
As a student professional society, Materials United was established on the Michigan Tech campus to promote among its members self-sought, increasing knowledge of metallurgy, materials science, engineering, and related fields. Materials United is advised by Dr. Walt Milligan, interim chair of the Department of Mechanical and Manufacturing Engineering Technology, and professor of Materials Science and Engineering.
The MS&T Chapter of Excellence Award reflects participation in events, member involvement, professional development, and more. Oliver Schihl, president of the Michigan Tech chapter of Material Advantage, accepted the award. Schil is a senior majoring in mechanical engineering technology.
In the photo, students featured from left to right are Emily Tom, Katie Kiser, Oliver Schihl, Brendan Treanore, and Josh Jay. Tom, Kiser, Treanore and Jay are all Michigan Tech seniors majoring in materials science and engineering. Each are members of the Materials United E-board, and Material Advantage.
Now in its 17th year, the annual MS&T conference and exhibition hosts over 3,200 attendees, more than 2,000 presentations, a robust plenary speaker lineup, society-based special events, and a collaboration among four leading materials science societies.