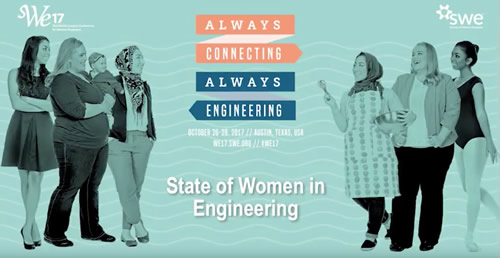 Fourteen members and an adviser of the Michigan Tech Society of Women Engineers (SWE) Section attended the annual National SWE WE17 Conference from October 25-29, 2017, in Austin, Texas.
Participants attended sessions on a variety of topics, networked with company representatives at the Career Fair with over 300 STEM based companies and celebrated women in Engineering. Michigan Tech members volunteered at Invent It! Build It! (an outreach activity for middle and high school girls).
Gretchen Hein, SWE Section adviser and faculty in Engineering Fundamentals, presented on two topics: the results of a survey of SWE Women in Academia members and whether or not there are gender differences in student performance first-year engineering courses.
Whether it was learning about making SWE more inclusive to women of color or learning to be a grateful leader in the workforce, the conference provided members with a variety of opportunities. They eagerly anticipate another opportunity to grow, network and celebrate women in STEM at SWE WE18 Conference next fall in Minneapolis.