by Alanna Knapp, student editor
Professor Blair Orr (SFRES) has received the 2010 Distinguished Teaching Award in the associate professor/professor category. He is singled out especially for directing Tech's Peace Corps Master's International Program, which allows students to combine two years of Peace Corps service with a graduate degree program. Involving eight disciplines, Michigan Tech has the largest number of Master's International programs nationwide at one university.
Orr earned a PhD in Forestry Economics from the University of Wisconsin-Madison and came to Michigan Tech in 1992. From the start, he taught economics and began the University's first Master's International program, forestry, in 1995. He became the director all eight programs in 2006.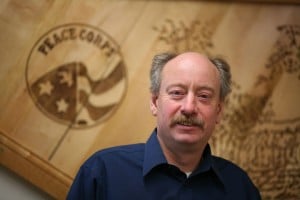 "Blair brings to the University his creativity, his time, a passion for international programs, and, most importantly, a commitment to students' success," said Dean Margaret Gale.
Students returning from the field tell Gale that they are well-prepared for their service. "They are confident," she said, "and, with Blair's guidance and influence, prepared for service abroad."
Less than three percent of Michigan Tech students leave the program, compared to one-third nationally. Gale attributes that commitment to Orr's dedication.
Students say that success in the field begins in Orr's classroom. "He prepares students to deal with the challenges of life in a developing country," one student said. "He exposes them to the main issues they will encounter–teaching them to critically examine issues, and helping them develop the ability to find more information about these issues when the need arises overseas."
Another student surmises that Orr is "possibly the best Peace Corps Master's International director in the country."
Other students describe him as "an excellent teacher who is both knowledgeable and able to effectively transfer this knowledge to his students. He uses homework methods that make students connect their lives to what is being learned in class."
For his part, Orr says that the course material for these master's students is more than just interesting information. "The success in the class and abroad," he says, "depends upon students' ability to understand and assimilate these lectures and readings in the field."
Therefore, he emphasizes, in part, class participation in discussions and writing. "I require students to keep a journal. When they write about the course topics–dealing with politics, corruption, community involvement–it helps to assess their comprehension."
Directing such an endeavor engages him. "I am involved from the moment they apply to the program until graduation," he says.
Sometimes their lives are arduous. He has one student who has to travel 20 miles to access the Internet.
What he enjoys most is interacting with these students in the field. "Some days they are excited and enjoying the work," he said, "and the next day they are depressed and need encouragement."
This understanding coach and mentor concludes, "Because I served as a Peace Corp volunteer, I am able to identify with their experiences."