by Marcia Goodrich, senior writer
"Gentleman" Gene Hesterberg, 92, who booted more than one errant forestry student back onto the road to graduation and found jobs for countless others, died Sunday, Sept. 26, at the Delaware House of PortagePointe, where he had lived for the past two years.
Hesterberg, of Hancock, came to Michigan Tech's forestry department in 1948 and rose through the ranks of the faculty. He was named department head in 1962 and held that position until his retirement in 1981.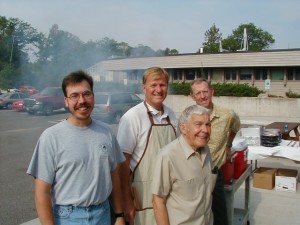 "He really was inspirational to a lot of students," said Dean Peg Gale (SFRES). "When I talk with alumni, they tell me about Gene and the influence he had on them, not only while they were at Tech but also in their careers."
Karin Van Dyke '78 was among them. "Gene was a big help to me and hundreds of other forestry students. He was responsible for my first job," she said. "And he was very approachable. He had an open-door policy before open-door policies were invented. Plus, how could you not like a guy who called you 'Pard'?"
It's even conceivable that Michigan Tech might have a different president had it not been for Hesterberg's well-timed intervention in the career of a certain forestry undergraduate.
"Gene had a gift for remembering names, and that worked really well until the student population in forestry got up to about 700," said President Glenn Mroz. "Then it became an impossible task for even the most gifted mind. So everybody became Pard. I was, everybody was."
Hesterberg went hunting and fishing with students, as well as teaching and advising them. "As a result, he had a familiarity with students that was almost unheard of," Mroz said. "Gene never hesitated to give anybody the Dutch uncle talk when they really needed it. As you might have suspected, I was one of those people. I had dropped out of school at one point, and Gene readmitted me. It was a couple years later that he urged me to go for a doctorate."
Hesterberg also played a key role in building the foundation of the School's research program, Mroz said. "He was involved in research himself, and he knew that graduate studies would play a big role. So, he hired people like Marty Jurgensen and Norm Sloan to position the School for the future."
Hesterberg received the Clair Donovan Award in 1975 for his efforts on behalf of a student football player who had been injured and needed to use a wheelchair. "He put together a curriculum for him so he could finish school," Mroz said.
Among his other honors, Hesterberg received Tech's Distinguished Teacher Award in 1980, was named a fellow in the Society of American Foresters, and was inducted into the Michigan Forestry Hall of Fame. In 1962, the Michigan Academy of Science, Arts and Letters awarded him its Academy Citation for outstanding contributions in conservation, research and teaching.
He established the Gene and Margaret Hesterberg Scholarship in 1979, named for himself and his late wife, and provided a generous donation to the School to support the expansion of the U. J. Noblet Forestry Building. Hesterberg Hall is named in his honor.
He was born Aug. 30, 1918, in Cincinnati and served in the army during World War II. He earned a BS from Purdue University and MS and PhD degrees from the University of Michigan, all in forestry, and was a biologist with the Michigan Department of Conservation before coming to Michigan Tech. Hesterberg was active in the community, serving on the Lake Linden Board of Education and on the Keweenaw Memorial Hospital Board. He owned a sawmill and Silver Forests, a timberland operation of several thousand acres.
"He hired me in 1975, and I've been here ever since," said Mary Jurgensen, the School's scheduling counselor. "Gene was like a father to all of us. He treated us all like family, and he was so great with students, a one-man career center. He found jobs for everybody."
"People used to call him 'Gentleman Gene,'" she said. "And he was a true gentleman. He was always thinking about the School, the students and the faculty, working hard for them. He was a great guy."
Van Dyke agreed. "He was an awesome guy," she said. "The world has lost a great forester and a great friend."
Hesterberg is survived by his wife, Judith, of Hancock; sons William (Sharon) of Rosendale, Wis., and John (Debby) of Port Huron; and grandchildren Brian, Christopher and Katie. Services were held Tuesday at the Old Apostolic Lutheran Church in Hancock. Burial was in the Oskar Cemetery. Memorials may be given to the Alzheimer's Association or to the Activities Fund at PortagePointe.
Memorial Chapel Funeral Home in Hancock assisted with arrangements. To view the obituary or send condolences, visit the Memorial Chapel website.