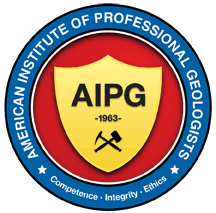 The American Institute of Professional Geologists (AIPG) Student Chapter at Michigan Technological University has been selected as the 2020 AIPG Student Chapter of the Year.
Each year, AIPG recognizes the most outstanding student chapter for their activities, achievements, and contributions to the Institute. The award letter states, "the Student Chapter at Michigan Tech stood out among the AIPG Student Chapters in the nation this past year, and are highly deserving of this distinction and honor."
The current chapter officers are:
Elana Barth, President (Geology)
Breeanne Huesdens, Vice President (Geological Engineering)
Emilie Pray, Treasurer (Geology)
Makala O'Donnell, Secretary (Geological Engineering)
The president and vice-president during the year of the award were Dustin Helmer (Geological Engineering) and Sienna Meekhof (Geology).
The chapter, which has more than 50 members is advised by Chad Deering (GMES) and Michigan Tech Alumnus David Adler '82 BS geology, a Mannik Smith Group Certified Professional Geologist.