Muda is the Japanese term for waste.  There are eight forms of muda:
Motion—unnecessary movement of people
Waiting—people waiting for people, information, products, equipment, etc.
Movement—unnecessary movement of "things"
Correction—incomplete or incorrect information
Over Processing—doing more than necessary to produce a product/service
Overproduction—doing/making more than needed
Inventory—excess supplies, paperwork, information or equipment
Knowledge—not utilizing an individual's full capacity (knowledge, skills, aptitude, and/or creativity)
Nick Sirdenis, General Manager at Mont Ripley Ski Hill, recently shared a short story of his day-to-day experience with muda – in the form of overproduction.   Mont Ripley uses snow guns to produce snow, supplementing when Mother nature doesn't come through.  "A good 18 inched of base (snow) will last through any thaw" Nick stated.  However, he continued with "when the snow guns are blasting and the ground is covered it is hard to tell whether there is one inch of coverage or four feet."  The Ski Hill staff then use drills to make a measurement of the snow coverage. 
Daily snow production changes with the weather, so Nick and his staff are always watching the forecast and measuring snow to make sure portions on the hill do not get too much (overproduction).   To date this season, Nick estimates the guns have allowed them to be open for an additional 40-45 days. 
Check out the Ski Hill on Facebook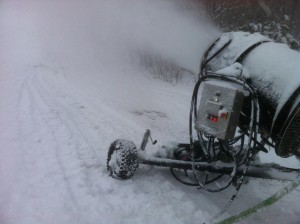 (Photo of a snow gun at Mont Ripley)