By Kaylee Betzinger, Student Process Improvement Coordinator
Lean Training funded by a grant from the Federal Mediation and Conciliation Service (FMCS) has been going on for the past several months. November 5th and 6th marked the last FMCS Lean Training sessions here on campus with our consultants, Mike Taubitz and Larry Osentoski.  Two cohorts of employees completed Lean training:
Lean Facilitators – trained to facilitate Kaizen Events for any campus department or area interested in making improvements.
Lean Implementation Leaders – trained in Lean concepts aimed at building a Lean practice into the day-to-day work for an area or department.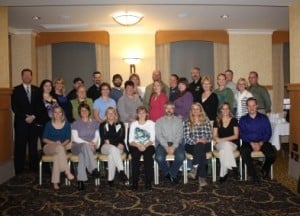 During the last training sessions each trainee participated in a Kaizen Event. The Lean Implementation Leaders chose a problem within their department for teams to work through and the Lean Facilitator teamed up to practice their Kaizen Event facilitation skills.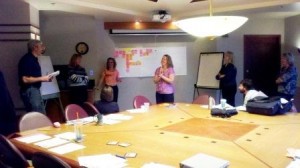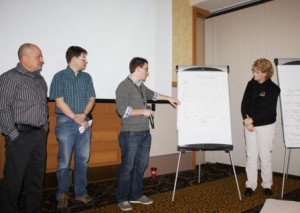 Each trainee had their own personal experience with the training. There were many laughs among the group and a lot of great memories. Some of the trainees share some of their experiences:
Rachel Wussow: "When learning Lean tools and thinking Lean, I am challenging and improving myself as a professional. My customer is an 18 year old college student. So, I have to teach the Lean lessons to a different generation of thinkers. Lean is more than improvement it is sustaining and acting. The world is full of change and Lean is a tool of adjustment."
Cat Burns: "My first experience was very positive. I enjoyed working with people that I may not normally interact with. It felt great to officially start my involvement with Michigan Tech's Lean Journey. I was lucky to have two great (and original) Facilitators work with me on my first Kaizen."
Thank you to all our trainees, our consultants, and Manager of Process Improvement, Wendy Davis for making these training sessions so enjoyable and valuable!