Guest post by Theresa Coleman-Kaiser, Assistant Vice President for Administration
Last year the State of Michigan embarked on a journey to bring Lean to state government as part of the Good Government transformation.  The "Lean Greenbelt" program was offered through a collaboration with Oakland University and the Michigan Lean Consortium (MLC), and to date 52 people have been certified, representing every state agency.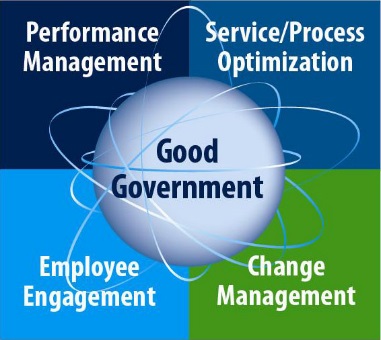 Through the MLC, I had the opportunity to volunteer as a coach to individuals in the third cohort of greenbelt candidates as they worked on their first projects of implementing lean in their state agencies. It was my job to provide guidance, feedback, and act as a sounding board to issues experienced on the projects, since I had walked in their shoes in my own Lean Journey.
My three candidates' departments and projects were:
The employee onboard process at the Department of Technology, Management and Budget's Organizational Performance & Measurement department
The out-of-state travel reporting process at the Department of Natural Resources
The Institutional Review Board (IRB) Process at the Department of Community Health
Without any background in state government, I was apprehensive about the coach's role but was pleasantly surprised to find that the processes identified for improvement were very much like processes I would find here at Michigan Tech. In fact, we had done an IRB kaizen event here several years ago that I was familiar with.  Many of their questions and concerns were exactly the same as I had when I first began my Lean journey, such as which tool to use at any given point in time and how to best communicate improvements.
The candidates utilized a pull system for their coaching needs, and the way this worked is that I only provided coaching when they asked for it.  To familiarize myself with their projects, I first helped them develop and revise their project charter, which is similar to a kaizen profile that we would use at Michigan Tech.  This was accomplished through email and individual telephone calls.  I also set up a weekly conference call with the promise that I would be on the phone line to answer their questions during those weekly "office hours" if they needed it.  Almost every week I had at least one candidate calling in with questions or asking for suggestions on how to approach their lean implementation.
On October 17th I was able to travel to Lansing to see the final report-outs of all 19 greenbelt candidates, including my own three coachees.  This was an extremely rewarding experience for me, to be able to share my knowledge and lessons learned from my own Lean practice.  I am also proud to know that these projects have produced time savings, financial savings, improved morale and have reduced waste to make Michigan an even better place!