This week's post is a guest post from Heidi Reid, Executive Assistant in Human Resources and campus Lean Facilitator.
It's always a little stressful when one moves into a new job…
What do you do with all those old files from your predecessor?
Duties and activities your predecessor "did it just because…?"
Jumping into new projects with little training
Organizing your desk for the most efficient work flow
Where do you find the files or information you need?
These are all concerns when taking on a new position. The good news is it doesn't have to be a scary transition if you start out the right way.
What is the right way?
To try to incorporate Lean/Continuous Improvement aids, techniques, tools, and standards.
How do you get started?
1. Map out your office and its best layout.
Your desk (facing the door if possible)
Computer placement (ensure you have desk space to work)
Your essentials (tape, pens, stapler, etc.)
Is your phone easy to access?
Do you need your phone close to the computer?
Are your files easily accessed?
2. Once you've mapped out your space, you can create standards for where things are housed by outlining them or simply use your maps as a guide to audit your desk daily. Example: Are my essentials in the correct place? Do I have anything on my desk that doesn't belong there? If so, find where it does belong and move it there immediately.
3. Create a standardized work sheet for your daily duties. Even include basic steps, such as: turn on computer, put on name tag, check emails, walk the Gemba and greet staff, attend daily team meeting, etc.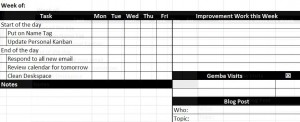 Use this work sheet to prioritize and "map out" your day. List all the duties you need to perform (AKA your "to do" list)– even if you know you won't get them all done today. Prioritize your list (for example, from A to Z); this will help you when wondering "What should I do next?" Simply follow your priority list until all items are complete, highlighting or striking through as items as they are completed. It feels good to mark tasks as "Complete"! If an item on your list is not complete, add it to your next day's priority list.
There are many different ways to achieve the same outcome; this is just an example. You can create a system that works for you! Some choose to use what is called a "priority matrix" (from Steven Covey's Seven Habits of Highly Effective People).