The Office of  Continuous Improvement's first ever Process Mapping Workshop came to a close yesterday. There were five Kaizen teams each working on a process of their choosing. Each team spent 2.5 hours on Tuesday and again on Thursday working on a current-state process map using a lean tool know as "swim lanes." The groups reported out on Thursday afternoon with each map taking on its own unique form.
Our facilitating group was made up of Ernie Beutler (Dining Services), Kathy Wardynski (Dining Services), Laura Harry (Memorial Union), Ruth Archer (Office of Continuous Improvement), and Theresa Coleman-Kaiser (Asst. Vice President for Administration). Our team leaders consisted of faculty and staff from a few different areas of the university: Gina Dunstan (Humanities), Madeline Mercado-Voelker (Human Resources), Heidi Reid (Human Resources), Kathy Wardynski (Dining Services), and Sandra Kalcich (Dining Services).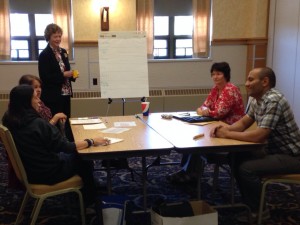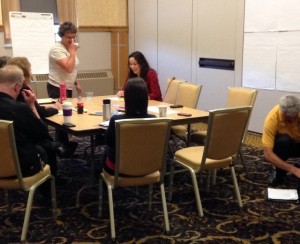 Our team leaders and facilitators were very excited to see and be a part of the process of process mapping, and were shocked to see just how complicated some of these Tech jobs really are. All in all, it was a great two days of mapping and we hope to see some fresh faces at our next workshop. More details on that coming soon!