One of my favorite continuous improvement tools is called a SIPOC diagram. A SIPOC diagram is used by a team to identify all relevant elements of a process improvement project before work begins. Using this tool helps define a complex project and refine a project profile. SIPOC diagrams also help to confirm the scope of the improvement project.
Its name prompts the team to consider the suppliers of your process, the inputs to the process, the process your team is improving, the outputs of the process, and the customers that receive the process outputs. The SIPOC is a valuable tool that will:
Identify suppliers and customers
Establish the scope of the project, and satisfy stakeholders that the problem area is captured in the process
Target the right metrics for verifying customer requirements
Establish who should participate on the project team
SIPOC stands for:
Suppliers- supply the inputs for the process
Inputs- materials, equipment, information, forms, staff, etc.
Process- the steps of the process from initial step to finishing product step
Outputs- outputs to internal or external customers, i.e. reports, products, services, etc.
Customers- anyone who receives the outputs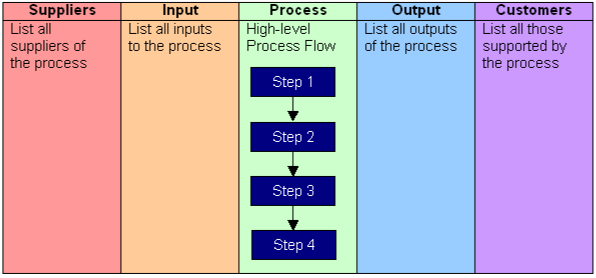 How to Complete a SIPOC Diagram
Process— The first step to completing the SIPOC is to list the process steps, keeping detail to a minimum by only outlining five to eight steps.  When describing the process steps, try to limit the description to two words. Have each description start with a verb (action) and end with a noun (subject).
Output—What information, data, reports, materials, etc. come out of this process or are produced as a result of the process?
Customers—Who or what receives the outputs of the process?
Inputs—What data, supplies, systems, tools, etc. are required for the process, or who is needed to perform the action?
Suppliers—Who or what functional organization, system, report, database, etc. supplies or provides whatever it is that is needed as an input for the process?  Who supplies what's needed to do the process?
To learn more about SIPOC diagrams email us at improvement-l@mtu.edu or call 906-487-3180.