We are pleased to post this guest blog from Theresa Coleman-Kaiser, Associate Vice President for Administration at Michigan Tech.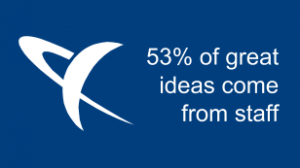 Auxiliary Services at Michigan Tech has a practice of a weekly leadership huddle that takes place for 30 minutes each Tuesday, using the virtual platform of Google Hangouts. This use of technology saves travel time for the 10 participants (who are located all over campus and more than 5 miles apart), allowing them to tune in from their offices and share their desktops when referring to metrics.
The meeting follows a standard agenda of each manager reviewing immediate concerns or hot topics, key schedules, an accountability review of leading indicators and a short report-out on continuous improvement events and projects for their area.  The meeting is kicked off by a safety topic and a lean focus, and responsibility for reporting on these topics is rotated among the leadership team members.  Recently as his lean focus, Mike Patterson, Associate Director of Dining Services, shared reflections on a Residential Dining Blueprint kaizen event in which the dining leadership team reviewed the improvement strategy they had develop last year, measured progress-to-goal, and set new priorities.
Mike reflected that while this review was at the strategic level and involved primarily management, the kaizen identified a number of "spin off" kaizen events in which involving those hourly and student employees closest to the work would be critical.  As part of this reflection, Mike referenced a blog post by Brynn Neilson that focuses on pulling improvement ideas from staff and understanding your business by focusing on what the customer values.  The blog lists 30 simple guidelines to ask ourselves and our employees that can help us improve in the areas of customer wants.  Customer wants fall into four general categories of VALUE, FASTER, EASIER, and BETTER.  This practice leverages what Neilson shares is supported by statistics, which is that "53% of great ideas come from staff on the shop floor."
After Mike referenced this blog post, I read it and would now definitely recommend it to those interested in building an improvement culture focused on customer-defined value and respecting those closest to the work.  The list of 30 guidelines for triggering improvement ideas is worth printing off and keeping handy for future reference.
References
Neilson, Brynn.  (2012, July 16).  Continuous improvement – 53% of great ideas come from staff.  Spinning Planet [web log].  Retrieved from:  http://www.spinningplanet.co.nz/about/blog?view=46