Earth's moon along with the Sun's gravitational pull are what cause tides on our earth [1]. In the past, coastal cities used the tides as a way to tell the time of day. This past week the "Super Blood Moon" was out, and for all those who gazed up at the sky with me in the Houghton area, I'm sure you can agree with me that it was a majestic sight to see. The awe I felt was only heightened with the knowledge that the phenomenon last occurred in 1982 and is not expected to occur again until 2033 [2]. As I reflected on how amazing it was watching the super blood moon, and seeing the moon change from its normal white color to an amazing orange hue over the course of a few hours, I couldn't help but think about how time, the moon, and this rare occurrence all relate back to continuous improvement.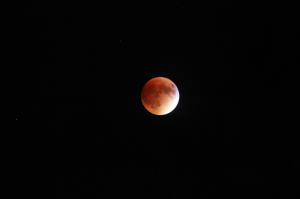 One can get used to how things are going, and when something out of the ordinary takes place it can set the whole system into shock. For example, an increase in job responsibilities as an employee, or for students, a disruption in their schedule like fall career fair. These times do not need to cause anxiety and worry. Such events don't happen on a daily basis, and it is good to take time and recognize them as they are and then trust that the systems set in place will work as intended. If the rare shock to the system does take place leading to an upset in the way the system behaved before, it could be an indication that the previous system was not as effective as it could be. This is a great time to implement Lean tools, and if needed a whole Kaizen event! Taking time to gather key people and utilize an appropriate Lean tool to get back in the rhythm of things can really be helpful. That's what Continuous Improvement is all about!
Relating back to the blood moon example, Beijing was unable to see the blood moon because "a choking blanket of air pollution covered Beijing" [3]. This caused anger among residents and was a time that the pollution problem was brought to national attention once again. This shows how sometimes extraordinary events can actually be a call to action, a way to set the wheels in motion to make a positive change.
As career fair is now over, and the super blood moon has passed, I look forward to making sure my systems can handle such fluctuations in time demands, and I reevaluate their past true effectiveness.
If you want to know more about continuous improvement feel free to reach out to the Office of Continuous Improvement either by phone, 906-487-3180, or email improvement-l@mtu.edu
References:
[1] Oceanservice.noaa.gov, 'Why does the ocean have waves?', 2015. [Online]. Available: http://oceanservice.noaa.gov/facts/wavesinocean.html. [Accessed: 30- Aug- 2015].
[2] P. Video, 'Progress Cargo Ship Racing Towards ISS After Nighttime Launch | Video', Space.com, 2015. [Online]. Available: http://www.space.com/30718-progress-cargo-ship-racing-towards-iss-after-nighttime-launch-video.html. [Accessed: 30-Aug-2015].
[3] USA TODAY, 'China's smog smothers 'blood' moon', 2015. [Online]. Available: http://www.usatoday.com/story/news/world/2014/10/08/china-smog-blood-moon/16903549/. [Accessed: 30- Aug -2015].