The sun is shining, the birds are chirping, and the trees are budding.  Spring is in the air, and spring means it's time for spring cleaning! Traditional methods of spring cleaning involve hours of cleaning and organizing that can sometimes leave us very overwhelmed. Today I want to talk a little bit about one of our Lean Tools, 5S, and it's application for continuous improvement in our homes.
The 5S System was developed for the manufacturing environment, but can be adapted to any environment since it is all about organizing a space to be clean, tidy, efficient, and safe. The 5S's are as follows:

Sort
Set in Order (Simplify, Straighten)
Shine (Clean)
Standardize
Sustain
Sort
How many times have you said to yourself, "I might need this one day?" This reasoning has successfully created mountains of unused items in all of our homes. There are certainly some things you would not want to throw out, but there are many things that you can do without. So, take some time to go through your house and find out what it is that you are holding onto so dearly that you could really just live without.
Set in Order
Once you've figured out what you want to keep and what needs to be thrown out, you can begin straightening each area of your home. The idea behind this step of 5S is "a place for everything and everything in its place." Take some time to arrange needed items so that they are readily accessible and labelled so that anyone can find them or put them away.
Shine, Standardize, and Sustain
Once you've eliminated unnecessary items and given everything else a place, the next steps are all about getting the area clean (shine), maintaining its appearance (standardize), and using preventive measures to keep it clean (sustain). The last three phases of the 5S go hand in hand; so take the time to plan what needs to be cleaned, when it will be cleaned, and who will do the cleaning.
Benefits of 5S
Increased efficiency and productivity
Improved Safety
Sustainable changes—no decline back to the previous way of operating
Simplification and increased flow of tasks
Reduction in waste
Control through visibility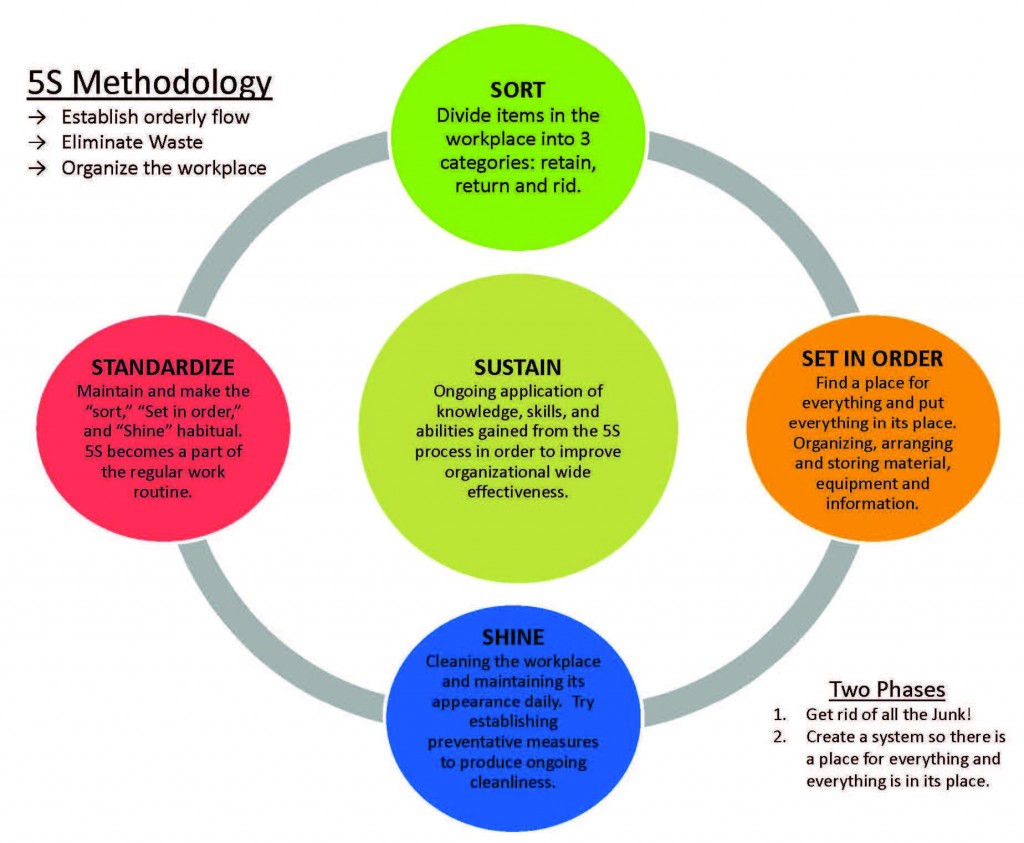 This year, take a Lean approach to your spring cleaning…You won't regret it!
For more information about 5S, check out the 5S Quick Point on our Lean Tools and Templates webpage, or contact the Office of Continuous Improvement at improvement@mtu.edu!