I've been on board as a process improvement coordinator (PIC) for about three months now and believe me when I tell you I've been ruined… for the better. I truly had no idea what  I got myself into by taking this job, let alone any idea of how much it would change ME so quickly. I've always been a well organized person, but with three months of lean in my life I've gone a little over the top.
When it became undeniable that I had changed and will continuously change was after I learned how to make an A3. It all started because I've been working on a project with our database so that it can be ready to be used to create our updates and annual reports for the board of trustees. That being said, there's a lot of little things that have been creating tremendous amounts of waste within our current system. To be able to get to the root cause(s) appropriately is where the A3's came into play. An A3 is a structured problem solving and continuous improvement tools that is outlined on a piece of A3, or ledger, paper (an example of the outline is below). To kick start this project I created six A3's total, a parent and five daughters. The parent has all of the vague information of what's happening, where each daughter goes into detail on one or several of the problems identified on the parent. Currently revisions are still being made to the parent and daughters. Revisions help in thoroughly planning out the project and ensuring all of the details are correct before making changes.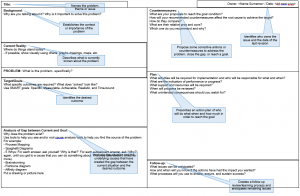 Going back to how lean has ruined me- I've recently moved into my first apartment and I'm noticing waste all around me. From clutter under the kitchen sink, to disorganization in my pantry and refrigerator, to how I store my shoes- there's a lot of waste and unnecessary movement of things to get to what I actually want, causing a lot of wasted time. The moment that I noticed I was ruined was after my first draft of the database A3's. I went home and noticed the waste of time, movement, space, and inventory. Having lean in my life I naturally began wondering where all of this waste was coming from, so what did I do? I created A3's for myself and I'm on the road to improvement in my own environment. An example of one of my personal A3's is shown below.