Anybody who is familiar with the Upper Peninsula of Michigan is familiar with how bold our seasons are despite how long or short they become. Autumn is no exception, it is the period of time between late September to the end of October before the wind starts to howl and the snow starts to fly. Although our fall season is brief, the leaves still change and boy do they pop, deep reds, bright oranges, smooth yellows, warm shades of brown, and every single type becomes a crunchy lawn decoration for you to groan about and the kids an excited shrill. Take a deep breath. Did you feel that? The chilly air flooding into your lungs as winter takes its first breath. Hold onto that fresh air for a moment, and let it fill you. Remember this scene.
Just like a plethora of leaves in your yard, a broken or defected process will make you groan at the sight and feeling of the chaos surrounding you. Remember that feeling of fresh air replenishing your body? That is the same feeling that you get from lean, but specifically one of it's daughters, it's tool the affinity diagram. Let's stick with the idea of fall in our mind, but specifically the scene of your yard. As I progress through the relation of raking a yard to an affinity diagram, I will also use the process leading up to jumping into the pile of leaves as my example highlighted in the pictures below each step.
Before anything begins your yard is not only covered in a blanket of pretty leaves, but also broken branches, toys left out from the summer, and items that you cannot see. Although the leaves are gorgeous, when you look at your yard you see derangement and are overcome with the urge to rake. The picture below represents all that you can see, the topical view.
This represents the current process: cluttered, busy, stressful, and more often than not, you can understand that there's a lot contributing to the chaos, yet all you experience is the symptom, stress. The first step, is recognizing the topical view (depicted below).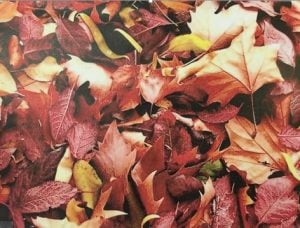 The urge to rake has grown strong, you go to your storage shed, retrieve a rake and just start raking your entire yard, this way everything is stirred up and where you have a visual of the entire area. This is how the affinity diagram works, you make note of every possible thing that could be intermingled into the process and bring it out into the open, but rather than using a rake, post-it notes are used and plastered onto a flat surface. This allows for everything to be up front and prevents minimal surprises later on. For our example, the items written on the post-its, or the parts of the process are: hauling away, hat, relaxation, you, raking, gloves, jacket, pets, re-raking, toys, jumping, kids, trash, a rake, leaves, garbage bags, long pants, branches, and trash.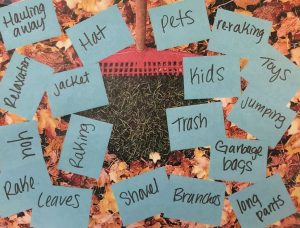 Now that the entire yard is raked, it needs to be broken up into piles that are a manageable size to be able to transport elsewhere. This also occurs with the post-its created above, the randomized notes are now condensed into piles of items that are similar to one another and placed under a category that is relevant to them. In our situation, The categories are: tools needed, dressing warm, people/things involved, items being raked, and action involved.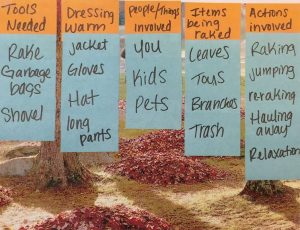 Finally, after a lot of hard work and frustration, the sounds of excited screams fill the air and leafs are quickly re-raked and hauled away to decompose elsewhere, and your process is laid out and organized in a manner that is clear and free of any surprises. Everything is out in the open and ready to be used to achieve your final product whether that be completing a current state map, planning an event, or figuring out where many people line up (or don't) in a given situation.