With Thanksgiving right around the corner our mouths are beginning to salivate in preparation for all of the delicious food that radiates euphoria mirroring that of our ancestor's kitchens on a daily basis. Family recipes are being pulled off the top shelf and dusted off, the biggest turkey is being carved and stuffed, and snores can be heard after a food coma sets in.
In my family, our first serving of food encompasses a portion of everything: turkey, mashed potatoes, cranberries, green bean casserole, sweet potatoes, corn, rolls, a salad, and my grandma's famous apple and pumpkin pies. However, the first helping is usually just shy of filling our bellies to the brim and then we are faced with the option of seconds. We can't handle a second helping of more than one item and it becomes an internal battle to decide what our final selection is going to be before we hit the floor for a nap.
Do not fret, thanks to lean and continuous improvement we have a tool that can help you decide which sample will ryle your taste buds and place a relaxed smile on your face. This tool is called a decision matrix, and although I will be demonstrating it through the image I painted for you above, it can be translated into any part of your work environment, schooling, or life to help you make a decision best suited for you.
To begin the decision matrix you must first make a table and define your criteria and options available. The criteria is what you want your option to possess and the options are the choices that your are deciding between. These will be added to column and row headings (shown in a picture below). For our purposes there are four areas of criteria to be met and four options. The criteria are: Makes my mouth water, fills my belly for more than an hour, tastes great, not too sweet. The options are: mashed potatoes, turkey, pumpkin pie, and green bean casserole.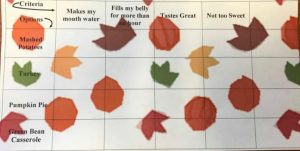 The second step is to determine how important is each of the criteria items. This is done on a scale of zero to five with five being the most important. Note: Values can be used more than once.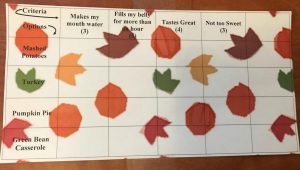 Third, go down each row and rank each option for how well they fit each criteria individually. This is done once again on a scale of zero to five, where five is that it fits that criteria perfectly. Again each value can be used more than one time. Personally, I prefer to rank these on a scale of 0-6 so that there isn't any room to be right in the middle, but this isn't the standard.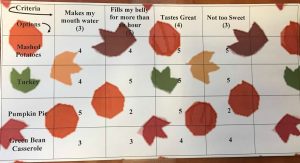 Now, you take the assigned values in each box and multiply it by the value assigned to that particular criteria. Once you get this number you add it to the bottom of that particular box. This is where the value assigned is written first then multiplied by the criteria value (the second number).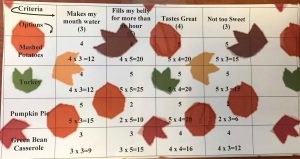 The last step with numbers is that you move across each row and add up the numbers that you just calculated to give you a total for that row. Once you have the totals you then compare the rows between one another, and the row with the greatest total is usually the option you can decide upon, in our case… winner winner turkey dinner!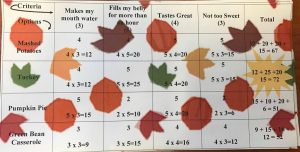 Now that you have your decisions sorted and methodically picked you can get your final nibbles for the night, curl up on the couch, and drift into a snooze to the sound of a football game, but most importantly you can rest easy knowing you made the right choice for you.