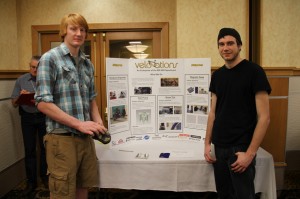 The Velovations team took third place in the Enterprise category at the 2015 Design Expo held at the Memorial Union Ballroom on April 16.
Team Leaders
Ian Connick, Mechanical Engineering and Kyle McGurk, Electrical Engineering
Advisor
Steve Lehmann and Paulus Van Susante, Mechanical Engineering-Engineering Mechanics
Sponsors
Specialized, Thomson, Department of Kinesiology and Integrative Physiology
Project Overview
Our team is dedicated to working on bicycle and bicycling industry related projects. For the 2014-2015 academic year, Velovations has more than twenty-five students from various majors divided into four projects. The projects are: a pedal that offers the ability to transition from clipped in to a platform and back at the push of a button; a system to allow tire pressure change on the fly; an inexpensive winter commuting tire; and an innovative exercise system for wheelchair users that will allow further physical research. Velovations projects cover the complete product development range, from idea conception, research, and development, to customer communication, testing, and ultimately manufacturing.
Design Expo 2015 Success: Winners, Senior Design and Enterprise Projects
The International Business Ventures took first place in the Enterprise program and the "Aluminum Corrosion Study—Automotive Electrical Systems" team placed first for Senior Design. In Enterprise, Consumer Product Manufacturing and Velovations took second and third. In Senior Design, "Front End Protection for Data Acquisition" team and "Design & Development of an Automated Stacker for Highway Products of Nucor Steel Corporation" placed second and third. Three teams were awarded Honorable Mentions.
Read more at Michigan Tech News, by Allison Mills.
Get Ready, Get Set: Design Expo 2015
Velovations
Hands-on work is what team captain Dan Krudy says is the key to his mechanical engineering project, a wheelchair-friendly exercise machine. The project is a collaboration with the RENEW-U research in the Kinesiology and Integrated Physiology Department.
"We have real-world experience, and this project is an opportunity to apply that," Krudy says of the multiple internships he and his teammates have done and how that influenced their wheelchair-based exercise design.
The project is part of the Velovations Enterprise. The name is a blend of velo — meaning bike — and innovations, and the name inspires the students' designs. Levi Vermeer and Kyle McGurk lead the other two Velovations teams.
Vermeer has MacGyvered cheaper snow tire options for winter bike commuters and designed a whole new test.
"Tires aren't simple to test on snow and ice," Vermeer says, explaining that he developed the test using a coding program, which will be an Enterprise legacy. "We're leaving behind a test fixture that other projects can use."