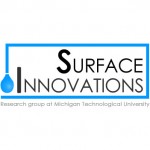 The research group Surface Innovations (SURFI), led by Dr. Jarek Drelich,  has launched a new website. The group research topics span a wide range, from mineral processing to antibacterial materials.
The group was recently honored for food safety innovation with the 2012 Great Lakes Entrepreneur's Quest (GLEQ) Food Safety Innovation Award. The award is affiliated with an entrepreneurial spinoff of the research, Micro Techno Solutions.
The  GLEQ award is based on Drelich's initial research on the copper-vermiculite materials is described in the article "Vermiculite Decorated with Copper Nanoparticles: Novel Antibacterial Hybrid Material," published in 2011 in Applied Surface Science. The coauthors are Bowen Li, Patrick Bowen, Jiann-Yang Hwang, Owen Mills and Daniel Hoffman.
Dr. Drelich is also Editor-in-Chief of the affiliated journal, Surface Innovations. Surface Innovations is an interdisciplinary and international journal publishing articles on scientific and engineering advances made in the formulation and modification of surfaces
and coatings.
The group was also active in the recent TMS 2013 annual meeting, where they presented work on bioabsorbable stents. Recently they published in the journal Advanced Materials on the suitability of zinc in bioabsorbable stents.