Alumni Association Announces 2016 Awards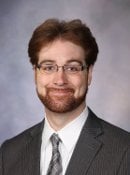 Michigan Tech's Alumni Association has named its 2016 award winners. Each year, members of the Michigan Tech Alumni Association Board of Directors review dozens of nominations of outstanding alumni and friends to determine award recipients.
One of the winners is a Mathematical Sciences alum, Johnathon Aho '08 Mathematical Sciences/Biological Sciences, Rochester, Minnesota, who received the Outstanding Young Alumni Award.  This award is presented to alumni under the age of 35 who have distinguished themselves in their careers. The award recognizes the achievement of a position or some distinction noteworthy for one so recently graduated.